At the same time you can be sure of a set temperature and a long-term stability that´s why it´s suitable even for the most demanding usage.
Production of company Weller (member of Apex Hand Tools) represent a synonym for top quality soldering stations intended even for a continuous 24h usage. In the Weller portfolio can be found several series, from which we can choose the right type for our usage.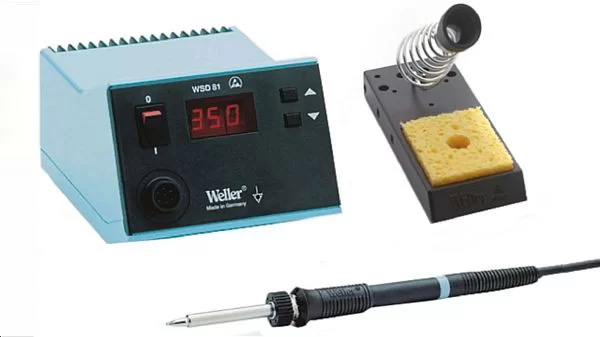 Right to the top belong for example series WX, WX2, WXD, introduced to you some time ago. This time Weller comes with an innovated version of station WSD81 – WSD81i. WSD81i soldering station hides behind a relatively plain classic design a top level technique. WSD81i uses "Silver line" technology of a heat transfer to a relatively short tip with a copper core, ensuring excellent heat transfer and excellent temperature accuracy. LT series tips usable with WSD81i provide a wide selection for absolute majority of joints. Thanks to a precise construction, they have a prolonged lifetime and even thin tips lead heat very well and we´ll succeed with them even on solder pads, which appear to be small, but they require a lot of heat (ground connections with a lot of vias on a PCB and similar).
Platinum thermal sensor built-in right beneath an exchangeable tip ensure a long-term stability, what results in a fact, that WSD81i doesn´t require calibration even after a long-term operation (IPC compliant
For more detail: Weller WSD81i soldering station doesn´t need a calibration