Renesas Electronics' new RX65N Cloud Kit provides a simple, application-ready platform for the development of IoT sensor devices which connect to the cloud via Amazon Web Services (AWS).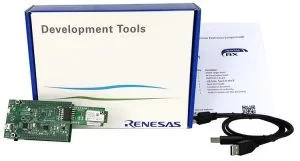 The kit features an RX65N microcontroller, on-board Wi-Fi® wireless connectivity, environmental, light and inertial sensors, and support for Amazon's FreeRTOS real-time operating system.
Future Electronics is now offering RN65N Cloud Kits free to qualified customers. Apply today and get started quickly with your new cloud-connected product development.
The RX65N kit provides a ready-made, secure connection to AWS. In Renesas' e2 studio IDE, developers can create IoT applications by configuring Amazon FreeRTOS, all the necessary drivers, and the network stack and component libraries.
The e2 studio IDE enables designers to develop IoT applications with powerful features, creating Amazon FreeRTOS projects from a GitHub directory and immediately building them.
In the IDE, they can also set up an Amazon FreeRTOS network stack and component libraries, such as Device Shadow, without requiring detailed knowledge of the system. They can embed additional functions based on Amazon FreeRTOS, such as USB connectivity and a file system, on an IoT endpoint device.
Features
32-bit, 120MHz RX65N MCU
Silex Wi-Fi connectivity chipset on a Pmod module
Cloud Option Board with:
Two USB ports for serial communications and debugging
Digital light sensor for ambient/infrared light measurement
MEMS accelerometer/gyroscope
MEMS gas, temperature, humidity, and pressure sensor
Applications
Industrial automation
Building automation
Home appliances
Smart meters
Read more: THE EASY WAY TO CREATE SECURE IOT DEVICE CONNECTIONS TO AMAZON WEB SERVICES