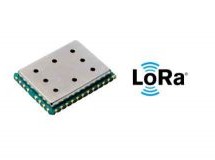 The only available radio chip for LoRa on the market has been the SX1272/76 from Semtech up to now. Things have changed and company IMST came up with the new type of radio chip SX1280 which can work on 2.4GHz band and decided to use this chip for their new LoRaWAN Long Range module, the iM282A-L. The iM282A-L is a compact and low-cost radio module that operates in the 2.4 GHz frequency band and combines the ...
Read more

›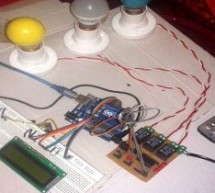 In this project, we are using IR based wireless communication for controlling home appliances. In this project, Arduino is used for controlling whole the process. We send some commands to the controlling system by using IR TV/DVD/MP3 remote for controlling AC home appliances. After receiving signal from IR remote, Arduino sends related signal to relays which are responsible for switching ON or OFF of the ho ...
Read more

›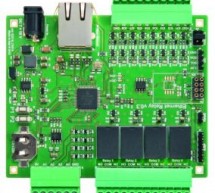 LAN interface with 4 relays, 8 programmable  I/Os and 4 analog inputs, IoT-ready. How many times have you read or heard about the Internet of things (Iot)? The Internet of things is an expression that is becoming more and more popular lately; it represents the expansion of the Internet into the world of objects and physical locations. Thanks to this technology, many objects that used to be exclusively passi ...
Read more

›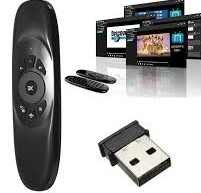 Building a USB mouse using PIC18F4550 microcontroller and CCS C compiler is easy as shown in the link below: USB Mouse using PIC18F4550 microcontroller Also, it is not hard to add an infrared remote control to the previous USB project. This post shows how did I build a simple IR remote controlled USB mouse using PIC18F4550 microcontroller and Car MP3 IR remote control (NEC protocol). The link below shows ho ...
Read more

›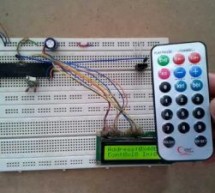 The NEC protocol uses pulse distance encoding of the bits. Each pulse is a 562.5µs long with carrier frequency of 38KHz. Logic bits are transmitted as follows: Logic 0: 562.5µs pulse burst followed by a 562.5µs space, with a total transmit time of 1125µs (562.5 x 2). Logic 1: a 562.5µs pulse burst followed by a 1687.5µs (562.5 x 3) space, with a total transmit time of 2250µs (562.5 x 4). The complete extend ...
Read more

›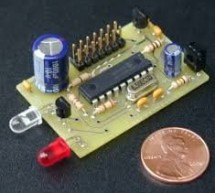 5-Channel IR remote control system using PIC microcontroller This topic shows how to make a simple infrared (IR) remote control system using the microcontroller PIC12F1822. This IR system has two circuits as known: IR transmitter circuit and IR receiver circuit. Both circuit based on the same microcontroller type which is PIC12F1822. This IR system uses NEC communication protocol. To see how the NEC protoco ...
Read more

›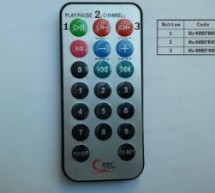 Remote Controlled Real Time Clock/Calendar with PIC12F1822, DS1307 It is good idea to build a simple and low cost DIY remote controlled real time clock/calendar using simple components. This post show how to make a remote controlled real time clock using PIC12F1822 microcontroller, DS1307 RTC chip, NEC IR remote control and all data are displayed on 1602 LCD. The DS1307 is an 8-pin integrated circuit uses I ...
Read more

›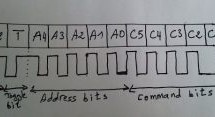 This topic shows an easy and effective way for decoding IR (Infra-Red) remote controls that use Philips RC-5 communication protocol, but first we've to understand how the RC5 protocol works. This Wikipedia links has good infos about the RC5 protocol. The RC-5 protocol was developed by Philips in the late 1980s as a semi-proprietary consumer IR (infrared) remote control communication protocol for consumer el ...
Read more

›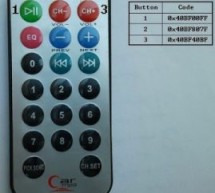 PIC12F1822 is a small microcontroller has only 8 pins which is not enough for building a real time clock using DS3231 with set buttons because the DS3231 needs 2 pins and the LCD screen needs 3 pins, therefore I've only 1 free pin. I connected that pin to an IR receiver and I used a remote control with a lot of buttons where I used only 3 buttons and the problem solved. This post shows how did I build a sim ...
Read more

›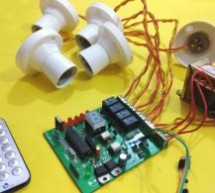 R Remote Controlled Home Automation using PIC Microcontroller In this project, we are going to use a PIC microcontroller to remotely control few AC loads by just using an IR remote. A similar project IR remote controlled Home automation has already been done with Arduino also, but here we designed it on PCB using EasyEDA's online PCB designer and simulator, and used their PCB designing services to order the ...
Read more

›