We have yet another Feather form factor board that is released by SparkFun in association with CircuitDojo, which is powered by the famous Nordic nRF9160 microcontroller, SparkFun Thing Plus- nRF9160, designed for users working in smart cities and smart agriculture applications.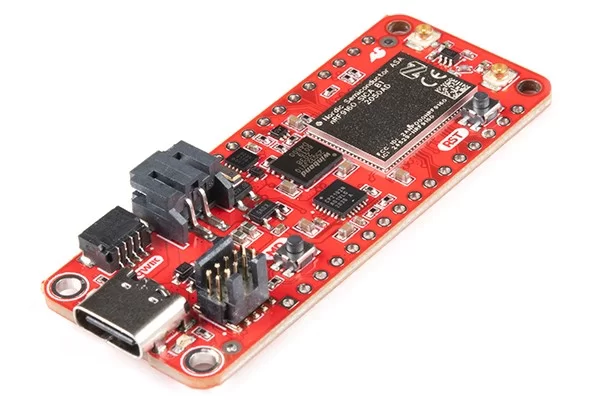 Last year there had been a crowdfunding project on nRF9160 Feather v2 by CircuitDojo that was funded over 100%. Moving forward, this board is assumed to be taken from the crowdfunding campaign as it has a small form factor with immense wireless communication capabilities.
The integrated Nordic's nRF9160 SiP is a next-generation chip for LTE-M and NB-IoT wireless protocols. Along with this, the SiP gets ARM Cortex-M33 CPU running at 64 MHz frequency, featuring 1 MB flash memory and 256 KB RAM. Moreover, the ARM CPU also distinguishes through ARM TrustZone for trusted execution and ARM CryptoCell 310 for accelerated cryptography.
"This little chip is capable of both CAT M1 LTE and NB-IoT cellular communication and is designed to work with Zephyr, the go-to RTOS for embedded development. To make the Thing Plus even easier to use, this board utilizes our handy Qwiic Connect System which means no soldering or shields are required to connect it to the rest of your system!"
Video
One of the important highlights of this electronic development board is the wide support for wireless protocols. The support for CAT M1 LTE and NB-IoT cellular communication makes it exceptionally outstanding for various automation applications with the hardware running with Zephyr which is an RTOS for embedded development. Apart from these more details on wireless connectivity can be found on the product page.
Read more: SPARKFUN THING PLUS NRF9160 DEVELOPMENT BOARD GETS CELLULAR CONNECTIVITY