The researchers at Soochow University in China, have published a paper on the hybrid device that is able to harness the power of sun and rain using a hybrid panel. By attaching a transparent nanogenerator to a silicon solar cell, researchers have designed a device that harvests solar energy in sunny conditions and the mechanical energy of falling raindrops in rainy conditions. The dual functionality of this hybrid panel may provide a way to collect energy with greater efficiency in the midst of constantly changing weather conditions.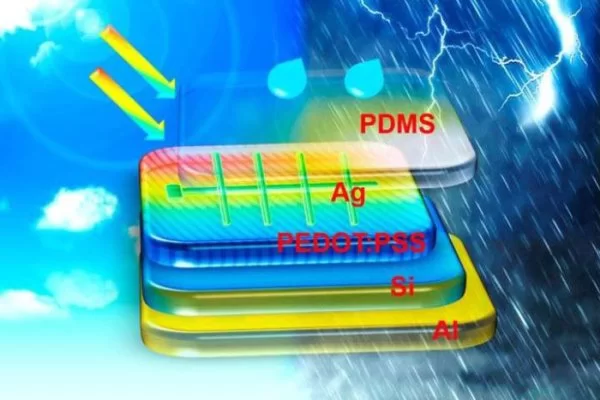 The hybrid device consists of a conventional silicon solar cell and a Triboelectric Nanogenerator (TENG),which turns the mechanical energy of falling raindrops into electricity. Although previous research has shown that these two types of devices can be connected with an extra wire, in the new design the solar cell and TENG are integrated by sharing a mutual electrode.
The biggest breakthrough in this work is that an integrated generator composed of a solar cell and a TENG was demonstrated through sharing a mutual electrode,
Zhen Wen at Soochow University said,
Compared to previous work, the simple design of the mutual electrode reduces the number of functional layers, which greatly improves the output efficiency.
The mutual electrode not only results in a more compact design, but it also offers advantages to both the solar cell and TENG. In particular, the TENG protects the solar cell by acting as a waterproof barrier and prevents water from penetrating the silicon. The textured electrode surface also greatly overcomes unwanted reflection of light, enhancing light harvesting of the solar panel. The textured surface results in a greater contact area between the TENG and falling raindrops, which improves the overall performance of the nanogenerator.
Read More: RESEARCHERS DEVELOP NEW HYBRID SOLAR PANEL THAT CAN GENERATE POWER FROM RAIN TOO