Displays are an important part of any device in today's world and while several advancements have been made in their quality with improved resolution and low power features, almost little has changed when it comes to the complexity involved with creating beautiful user interfaces for devices. This is why the team at STONE created the STVC035WT-01 intelligent Smart display.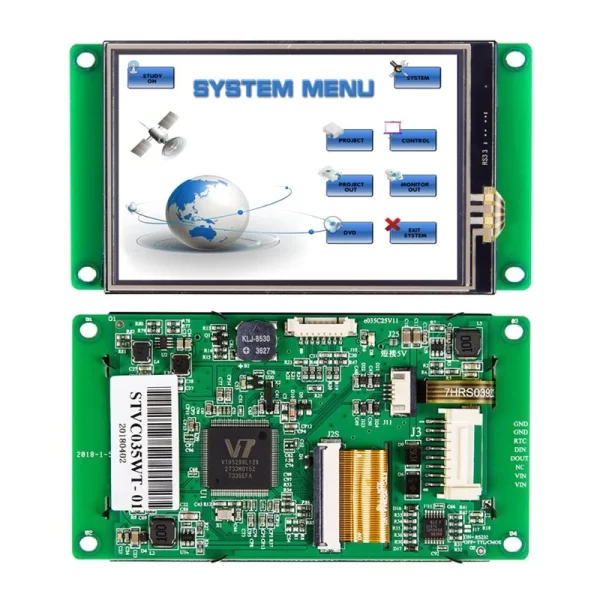 The display which is a 3.5″ display has integrated CPU, driver, flash memory and different kind of interfaces to enable it to connect to data sources like microcontrollers. It works with a set of customized commands which are sent to display via RS232 or other protocol and it is compatible with the Stone GUI designer which allows users to develop the User Interface for their application in a fast and easy manner.
The display comes with an ARM Cortex M4 processor which drives all its internal logic. It possesses a viewing area of 49 x 73.4 mm with a resolution of 320×480 (16:9) pixels and a maximum attainable brightness level of 300 cd/m². The display communicates with connected microcontrollers or processors via UART but it is also possible to connect to it via RS485. While there is a version of the display that comes without the touchscreen functionality, the ones with the functionality, make use of Industry Level 4 wire resistance for the touch interface.
The Features Of The Display Are Highlighted Below:
Cortex M4 CPU;
UART interface (RS232/RS485/TTL) ;
256-byte register;
128 kb variable memory;
128 MB flash memory, expandable to 1 GB;
GUI design software;
A customized command set;
8-channel curve trend chart memory;
extremely fast variable display response speed;
A single page supports up to 128 display variables;
Integrated real-time clock RTC,
Touch buzzer sound function;
Support 90 degrees, 180 degrees, 270-degree screen rotation via software to adjust the viewing Angle
To use the display, the developers have to design a graphic user interface using the Stone GUI design software and upload the design to the display using the USB port. The display is then connected to the main microcontroller or processor on which the project is based, through the UART interface via a flat 8-pins cable, and customized commands can then be sent through the UART interface, to read/write values in the display.
Read more: DESIGN CUSTOM UI WITH STONE TECH INTELLIGENT TFT LCD MODULE