Description
The TPS65262 is a monolithic triple synchronous step-down (buck) converter with 3-A/1-A/1-A output current. A wide 4.5- to 18-V input supply voltage range encompasses the most intermediate bus voltage operating off 5-, 9-, 12-, or 15-V power bus. The converter, with constant frequency peak current mode, is designed to simplify its application while giving designers options to optimize the system according to targeted applications. The device operates at 600-kHz fixed switching frequency. The loop compensations for buck 2 and buck3 have been integrated for less external components. The 180° out-of-phase operation between buck1 and buck2, 3 (buck2 and buck3 run in phase) minimizes the input filter requirements. At light load, the device automatically operates in PSM, which provides high efficiency by reducing switching losses.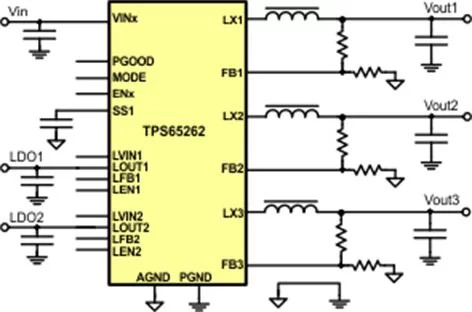 Two low dropout voltage linear regulators (LDO) are also built in TPS65262 with input voltage range 1.3 to 18 V, continuous output current 200 mA/100 mA, independent enable and adjustable output voltage.
The TPS65262 features an automatic power sequence with driving MODE pin to high and configuring EN1, EN2, and EN3 pins.
For more detail: TPS65262 – Triple Synchronous Step-Down Converter with 200mA/100mA Dual LDOs