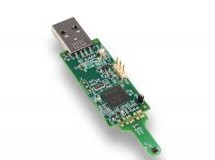 This device is the industry's first to exceed Class-A platinum resistive temperature detector (RTD) medical grade accuracy across a wide temperature range. As a single-chip digital alternative to a platinum RTD, the TMP117 enables engineers to reduce system complexity and layout challenges, as well as slash power usage and extend battery life. The TMP117 is a high-precision digital temperature sensor. It is ...
Read more

›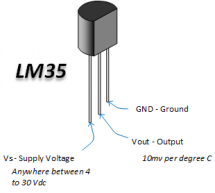 This is a simple project showing you how to read LM35 analog temperature sensor using a PIC microcontroller and LCD 4x20 in Proteus ISIS. In this tutorial we will make a practical use of the ADC. We will use them to show current temperature using two LM35 temperature sensors. The temperature sensors are connected to the ADC ports of the microcontroller, which takes in the analog signal and gives out digital ...
Read more

›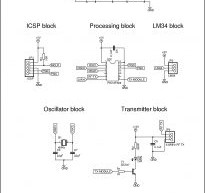 ntroduction In this article, I'll show you one way to make a wireless thermometer using two PIC microcontrollers. One microcontroller, the PIC16F688, will measure voltage from an LM34, convert it to an ADC value, and transmit some data. The receiver will receive the data, and display a message on an LCD. Sending data with the 433MHz transmitter is easy: in my case, I connect the PIC TX pin to the 433MHz dat ...
Read more

›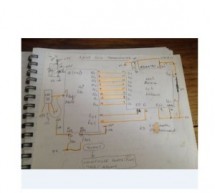 I got to thinking that an interest in hi-fi can be a bit geek ( in a good way ) so I thought one of my latest geek projects might be of interest to some of you. You could build the project 'as is' without learning embedded C programming or you could use the project as a spring board to extra geekiness and weekend fun – I'll leave that to you Learning embedded C can be hugely rewarding and creative. The tool ...
Read more

›
PIC 16F88 Digital Thermometer Light Meter and resistance ohm meter. My original idea for this project was simply to try and interface the WINTEK WD-C2401P lcd panel to the pic (see my previous post). I figured it would be fun to add a couple of ADC readings to display something useful on the lcd.  Theory of Operation: PORTB on the PIC is used as the data port for the LCD. The Enable, Register Select and Res ...
Read more

›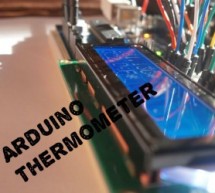 Hello, everyone !!! Today I'm going to show you how to make a thermometer with Arduino and LM35 termperature sensor, builded on a breadboard and conected together with jumpers (bunch of cables :D). Step 1: Gathering The Parts This is the list the parts needed to make the thermometer. If you dont have a 10k pot you can use 50k like me ! 1x Arduino UNO board 1x Breadboard 1x 16x2 LCD display 1x LM35 sensor 1x ...
Read more

›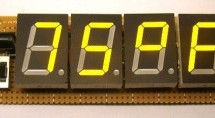 This project is about building a microcontroller-based digital room thermometer plus hygrometer that displays temperature and relative humidity on 4 large (1 inch) seven segment LED displays which adjust their brightness level according to the surrounding illumination. It consists of a closed loop system that continuously assesses ambient light condition using an inexpensive light-dependent resistor (LDR) a ...
Read more

›
Here we have a clock. It's not "another clock". It has digital and binary output. It also has a thermometer and a hygrometer. It's not "another thermo-hygrometer". It display's absolutely humidity (gr/m3) also. Schematic MCU I build it around Microchip PIC16F917, with internal Oscillator at 4MHz. I also build a serial port programmer, so I can programming it on-line, using the DL4YHF WinPic. Clock I ...
Read more

›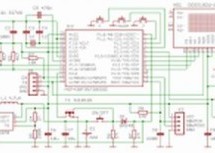 The heart of the device is TI's MSP430RF5728 microcontroller (μC) with FRAM type of memory instead of conventional Flash. This simplifies and speeds up writing to memory and from the user's viewpoint there is no difference between RAM and FRAM access. No preliminary block erase is needed by writing a single byte into FRAM. However, presently FRAM is slower than Flash. In FR57xx devices the maximum FRAM acce ...
Read more

›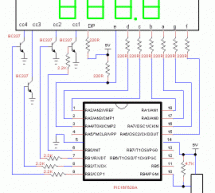 Updated on 17/01/2016 (a and b segments were swapped on drawing) Counter based on PIC16F628A . Included C code and circuit diagram. Displays -55 to 125 centigrade. The temperature is read every 15 seconds, can be changed in the code. The math is using integers to calculate the degrees and the tenths of degrees are calculated separately. The 7 segment LED is common cathode, 4 separate digits can be used with ...
Read more

›