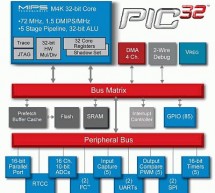 CHANDLER, Ariz., Nov. 5, 2007 - Microchip Technology today announced the new Microchip PIC32 family of MIPS 32-bit microcontrollers (MCUs). The Microchip PIC32 is based upon the MIPS32 M4K Core, a high performance core with 32 core registers that are each 32-bits. Microchip has extended the functionality of the M4K core with some unique proprietary enhancements, including an 8-word prefetch queue with branc ...
Read more

›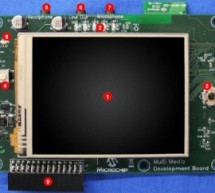 Review of the Multimedia Expansion Board for the PIC32 Start Kits from Microchip. In this review I'm going to show the board and it's periphirals, and then I will show a couple of demostration applications. ...
Read more

›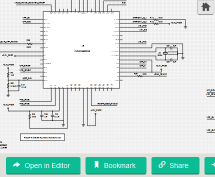 The DM320018 PIC32 bluetooth starter kit comes with demonstration code that allows it to communicate with smart devices that are bluetooth enabled. It features the PIC32MX270F256D MCU for central processing and the FLC-BTM805 dual-mode Bluetooth HCI module. The kit also contains Cree high output multi-color LED, three standard single color LEDs for display, five push buttons for user defined inputs, integra ...
Read more

›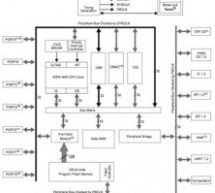 The Microchip PIC32 is a family of complex and powerful microcontrollers that can be purchased for less than $10 in quantities of one. This microcontroller offers many peripherals useful for mechatronics purposes, such as several channels for analog-to-digital conversion, digital I/O, synchronous and asynchronous serial communication, pulse width modulation, etc. For our purposes, the primary advantages of ...
Read more

›