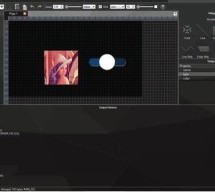 Bringing more comprehensive support to its Embedded Video Engine (EVE) product offering, FTDI Chip introduces EVE Screen Designer – which is available to download for free. Suitable for use with Windows 7 and above, the development suite enables the creation of advanced human machine interfaces (HMIs), via EVE's  object-oriented approach, without any understanding of EVE display lists. This makes it more ac ...
Read more

›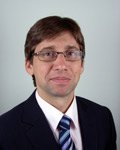 EnSilica has added a 64-bit precision, fully-pipelined MAC unit to its RISC core to deliver the eSi-3260 for audio, sensor hub, motion control and touch screen applications. In addition to 32-bit data, the MAC unit supports dual 16-bit SIMD (single instruction multiple data) multiply and MAC operations. Uniquely, full complex multiplication is also supported, performing four multiplies and two additions per ...
Read more

›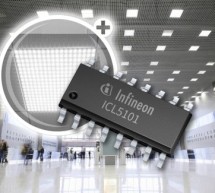 Infineon has added to its lighting control ICs, with a chip addressing lighting systems in the range of 40W to 300W. The high-voltage resonant controller IC ICL5101, is for indoor and outdoor LED lighting, high-bay and low-bay lighting, street lighting, parking garage and canopy lighting, office lighting, retail and shop lighting. Since the total cost of ownership is an important aspect for industrial light ...
Read more

›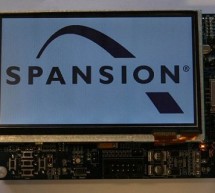 Spansion has added two more ARM Cortex-M4-based microcontrollers to its portfolio: the FM4 S6E2DH with an integrated graphics display controller and the S6E2CCxxF/MB9BF568F with self-contained voice command control. "These new product families enable customers to design intuitive next generation human machine interface (HMI) systems," says Spansion's Dhiraj Handa.The S6E2DH combines an ARM Cortex-M4 core ba ...
Read more

›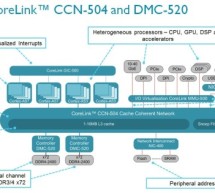 ARM has added to its CoreLink Cache Coherent Network (CCN) SoC interconnects, which deliver a flexible architecture from sensors to servers. The CoreLink CCN-502 and CoreLink CCN-512 interconnects extend the current family for data center and infrastructure equipment that scales from the edge of the network to the core. "Our new interconnects build on a common architecture, scaling from high efficiency Powe ...
Read more

›