Gas Sensing Solutions (GSS) Ltd is a designer and manufacturer of low power, high speed Non-Dispersive Infrared (NDIR) carbon dioxide gas sensors. Recently, it has claimed a new speed record for its SprintIR6S NDIR CO2 sensor.
The new sensor comes with response rates that had never been reached before by any other NDIR CO2 sensors. It can take up to 20 readings per second, and has a six-times faster response rate than the current SprintIR.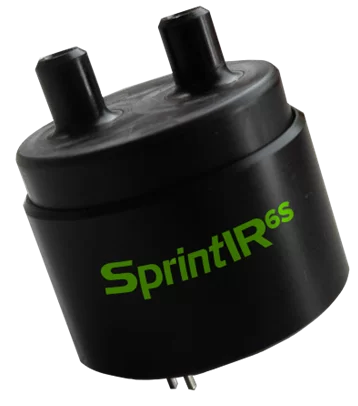 According to Ralph Weir, GSS' CEO, the sensor uses LEDs and photodiodes to measure differential light absorption between light at 4.2 and 4.4 μm. So, they succeeded to develop ultra-speed sensor, while other detectors take several seconds or even minutes to take a reading.
"Our LEDs, by contrast, are Solid State emitters, and illuminate almost instantly. With the new SprintIR6S, we've also minimised the sample volume down to only 2ml, which enables us to achieve our fastest ever response rates."
~ Ralph Weir
The SprintIR6S is less than a cubic inch in dimension with 23.8mm in diameter and 24mm tall. It operates at a range between 3.25V and 5.5V and consumes only 35mW. SprintIR6S is also available in measurements ranges from 0% to 100%.
Main Specifications of SprintIR6S
Warm-up Time: < 30 seconds
Operating Conditions:

0°C to 50°C (Standard)
0 to 95% RH, non-condensing

Recommended Storage: -30°C to +70°C
Sensing Method:

Non-dispersive infrared (NDIR) absorption
Patented Gold-plated optics
Solid-state source and detector

Sample Method: Flow through
Measurement Range: 0-5%, 0-20%, 0-100%
Accuracy: ±70 ppm +/- 5% of reading (100% Range ±300 ppm +/-5% of reading)
Non Linearity: < 1% of FS
Pressure Dependence: 0.13% of reading per mm Hg in normal atmospheric conditions
Read More: SPRINTIR6S, WORLD'S FASTEST NDIR CO2 SENSOR