Acconeer's A111 radar sensor is based on a unique patented technology enabling millimeter accuracy with very low power consumption The Acconeer A111 is a low power, high precision 60 GHz pulsed SRD radar sensor with a footprint of 29 mm2, delivered in one chip system in package (SiP) solution with embedded RF and antenna. The small size and the low power consumption make it suitable for integration into any ...
Read more

›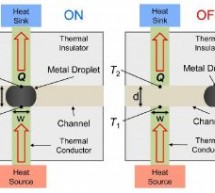 Schematic of the thermal switch showing the (a) ON-state with the liquid metal droplet bridging the heat source and sink and (b) OFF-state with liquid metal removed from the channel. (c) Side view image of the fabricated thermal switch device. (d) The ON and OFF thermal resistance circuits based on a 1-D heat transfer model. A switch is a fundamental part of most electrical and mechanical devices; mechanica ...
Read more

›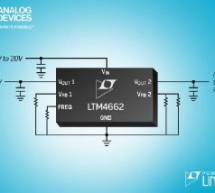 Analog Devices  announces the Power by Linear LTM4662, a dual 15A or single 30A step-down µModule regulator in a BGA package with an exposed stacked inductor for improved thermal dissipation properties. The remaining components, the MOSFETs, DC/DC controller and supporting components, are over-moulded and the complete device is housed in a 11.25mm x 15mm x 5.74mm BGA package. With limited airflow, the LTM46 ...
Read more

›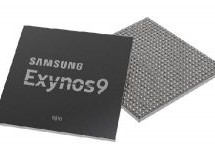 The new Exynos 9810 brings premium features with a 2.9GHz custom CPU, an industry-first 6CA LTE modem and deep learning processing capabilities Samsung Electronics, a world leader in advanced semiconductor technology, today announced the launch of its latest premium application processor (AP), the Exynos 9 Series 9810. The Exynos 9810, built on Samsung's second-generation 10-nanometer (nm) FinFET process, b ...
Read more

›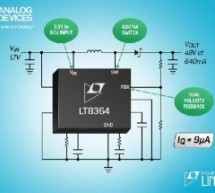 Analog Devices has announced the LT8364 current mode, 2MHz step-up DC/DC converter. It has an internal 4.0A, 60V switch and operates from an input voltage range of 2.8 to 60V. The 'Power by Linear' LT8364 is suitable for applications with input sources ranging from a single-cell Li-Ion battery to multi-cell battery stacks, automotive inputs, telecomms power supplies and industrial power rails. The LT8364 ca ...
Read more

›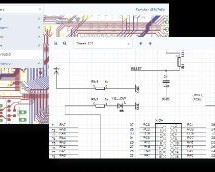 Version control is a system that records changes of a file or set of files over time so that you can recall specific versions later. Version control was developed to help teams work on tasks together in a more collaborative way. In the last few years, version control platform has often been focused on software-based projects. Git is the preferred version control tool for most developers since it has multipl ...
Read more

›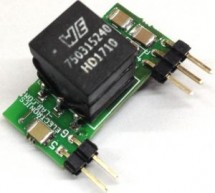 Mini Isolated Power Supply is designed for CAN, RS-485, RS-422, RS-232, SPI, I2C, Low-Power LAN applications. The power supply provides +/- 5.50 V DC symmetrical outputs with load current 500mA from 5V DC input. The project is built using SN6505A IC from Texas instruments. The SN6505A is a low-noise, low-EMI push-pull transformer driver, specifically designed for small form factor, isolated power supplies. ...
Read more

›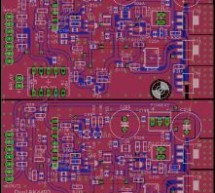 This output stage is the brainchild of my friend Kostas, all I did was lay out the PCB. It is a fully discreet single-ended class-A output stage, outputting ~2.4V RMS. And this is the BoM: AK4490 dual mono DAC - Discreet Analog stage BOM (371 downloads) The BoM includes part numbers for most parts from Mouser. The only parts that are not in production and must be found elsewhere are the UPA68H. Ebay is a go ...
Read more

›
Today we're proud to announce the release of EAGLE 8.7 and what is quite possibly one of the biggest releases we've had to-date, this time focused (largely) on libraries and library development (and what that means for 3D modeling of your finished PCB)!  But before we get into it, let me share a thought -- As some of you know, most of us on the EAGLE team use the SW (imagine that!).  In fact, it's the overw ...
Read more

›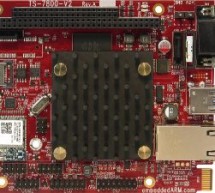 Back in 2007, Technologic Systems announced the TS-7800, a single-board computer (SBC) that was able to boot Linux 2.6 in under two seconds. At its core, The TS-7800 is equipped with a Marvel 500MHz ARM9 CPU and includes a user-programmable on-board FPGA (Field-Programmable Gate Array) with 12,000 LUTs (look-up tables). The TS-7800 was a powerful board at that point and a template for other SBCs to follow i ...
Read more

›