New Yorker Electronics has announced the release of a new ultra-thin polymer electrolytic capacitor that represents a totally new capacitor form factor. The Cornell Dubilier Electronics' new PPC Series, designed specifically for applications requiring high ripple current and the thinnest profile possibilities, opens up entirely new product design options. In addition to being just 1 mm thin, the PPC uses versatile packaging technology that makes it possible for capacitors to be formed into custom shapes and sizes to accommodate available space.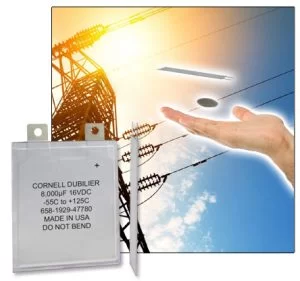 Rated for 125°C, PPC combines the advantages of aluminum electrolytic and aluminum polymer technology. These capacitors have the ultralow ESR characteristics of conductive aluminum polymer capacitors in a 1mm thin package. With high capacitance and high ripple current per volume, applications for 125°C polymer capacitors include DC/DC converters, tablets, telecommunications, thin displays, and variety of industrial power conversion.
A single PPC capacitor can handle ripple currents equivalent to dozens of SMT capacitors or a bulky cylindrical device. In fact, CDE has stated that a single PPC capacitor is equivalent to a parallel bank of 50 or more polymer tantalum capacitors – at one fourth the height. Using a single unit means PPC capacitor solutions are lighter in weight and can improve overall circuit reliability.
Features & Benefits:
Only 1mm thin
Temperature: -55ºC to +125ºC
Capacitance: 8,000µF to 20,000µF
Voltage: 6.3Vdc to 24Vdc
2,000 Hrs @ Rated Temperature, Voltage and Ripple Current
Custom Values, Sizes and Shapes
Low Leakage Current
Very Low ESR
High Ripple Current
54 Arms @ 20kHz
10g Pk Vibration
Altitude: 10,000 Ft.
Read more: NEW YORKER ELECTRONICS UNVEILS NEW CORNELL DUBILIER ULTRA-THIN 1MM POLYMER ALUMINUM ELECTROLYTIC CAPACITOR SERIES