Whether he really said that or not is still up for debate. The quote appeared at the beginning of an editorial written by James E. Fawcette published in the April 29, 1985 issue of InfoWorld and the was attributed to a certain William Gates, chairman of Microsoft in response to a question about why PC-DOS had an upper memory limit of 640 KB.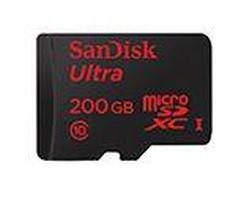 Well, things move on and at the Mobile World Congress in Barcelona SanDisk Corporation introduced the '200GB SanDisk Ultra microSDXC UHS-I card, Premium Edition', which is currently the world's largest capacity microSD card for use in mobile devices. This comes one year after they introduced the 128 GB SanDisk Ultra microSDXC card.
According to Christopher Chute, Vice President, Worldwide Digital Imaging Practice, IDC "Seven out of 10 images captured by consumers are now from smartphones and tablets. Consumers view mobile-first devices as their primary means for image capture and sharing, and by 2019 smartphones and tablets will account for nine out of 10 images captured," This high capacity card is suitable for Android smartphone and tablet users and the Premium Edition microSD card combines the world's highest capacity with fast transfer speed of up to 90MB/s. The 200GB SanDisk Ultra microSDXC UHS-I card, Premium Edition, has a ten-year limited warranty and will be available worldwide in Q2 at an MSRP of $399.99.
For more detail: 640 K ought to be enough for anyone…