Zhaga moves on CoB standardisation
In a long-needed move, LED standards body Zhaga has picked up the baton and started work on a specification for chip-on-board (CoB) LED arrays.
A Zhaga Book will specify a family of six rectangular or square LED modules with different dimensions. The rest of the content is still being discussed (see below).
CoBs are becoming the standard LED light source for luminaire makers that don't have access to surface-mount production techniques. However, despite being similar in appearance, CoBs from different manufacturers differ widely in size, shape and output.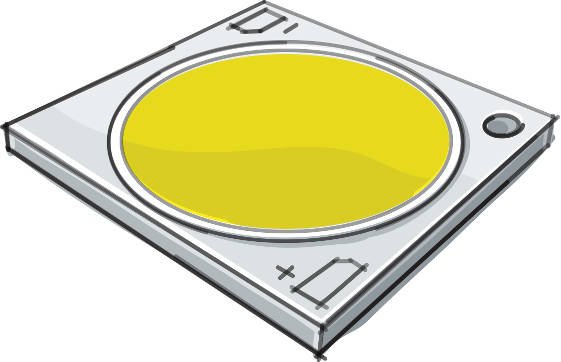 "This creates problems for luminaire makers and other stakeholders such as CoB holder suppliers, and limits their options to use alternative products from different suppliers without changing their luminaire or holder designs," said the Zhaga Consortium.
Unsurprisingly, luminaire makers are pleased.
"We consulted many luminaire makers, and received broad support for our plans to standardise this type of LED light source," said Zhaga secretary general Musa Unmehopa.
Now CoB makers have to buy in.
"We welcome any input from CoB makers or other companies, who are invited to join Zhaga and contribute to the on-going discussions," he said.
The Book will define LED light engines comprising rectangular and square LED modules with a circular light-emitting surface (LES) and a separate LED driver.
The chosen dimensions are:
12 x 15mm
16 x 19mm
19 x 19mm
20 x 24mm
24 x 24mm
28 x 28mm
In the majority of cases, they will be real CoBs – LED chips surface-mounted onto a thermal PCB with phosphor applied chip-by-chip or over the entire array. However, specification will not prevent the use of alternative technologies.
The circular light-emitting surface (LES) sizes defined will correspond to the LES categories specified in existing Zhaga Books 3, 5, 10 and 11 – that cover spotlight modules.
For more detail: Zhaga moves on CoB standardisation
Project Ratings:
Related posts