Transceiver Chip Handles RS-232, RS-485 and RS-422
SP335
RS-232/RS-485/RS-422 Transceiver with Internal Termination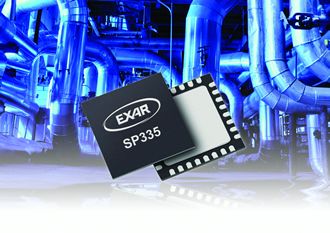 Features
Pin-Selectable Cable Termination
No External Resistors Required for RS-485/422 Termination or Biasing
Robust ESD Protection:

±15kV IEC 61000-4-2 Air Gap Discharge
± 8kV IEC 61000-4-2 Contact Discharge
±15kV Human Body Model (HBM)

20Mbps RS-485 and 1Mbps RS-232 Data Rates
Pin-Selectable 250kbps Slew Limiting
Single Supply Operation from +3V to +5.5V
1.65V to 5.5V Logic Interface VL pin
2 Drivers, 2 Receivers RS-232/V.28
1 Driver, 1 Receiver RS-485/422

Full or Half Duplex Configuration
1/8th Unit Load, up to 256 receivers on bus

RS-485/422 Enhanced Receiver Fail-safe for open, shorted, or terminated but idle inputs
10nA Shutdown Supply Current (typical)
Small 32 QFN package (5mm x 5mm)
Applications
Software Programmable Serial Ports (RS-232, RS-422, RS-485)
Industrial and Single Board Computers
Industrial and Process Control Equipment
Point-Of-Sale Equipment
HVAC Controls and Networking Equipment
Building Security and Automation
Description
The SP335 is an advanced multiprotocol transceiver supporting RS-232, RS-485, and RS-422 serial standards. Integrated cable termination and multiple configuration modes allow all three protocols to be used interchangeably over a single cable or connector with no additional switching components. Full operation requires only four external charge pump capacitors.
The RS-485/RS-232 mode pin selects RS-485 mode when high, and RS-232 mode when low. In RS-485 mode, the TERM pin enables the differential 120Ω termination, and the HALF/FULL pin configures the transceiver as either half or full duplex.
The high speed drivers operate up to 20Mbps in RS-485/422 modes, and up to 1Mbps in RS-232 mode. All drivers can be slew limited to 250kbps in any mode to minimize electromagnetic interference (EMI) by setting the dedicated SLEW pin low.
For more detail: Transceiver Chip Handles RS-232, RS-485 and RS-422
Current Project / Post can also be found using:
RS 485/422 transciever chip
RS-422 driver chip
Project Ratings:
Related posts