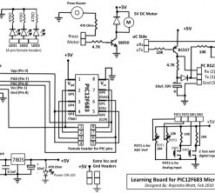 Introduction Electronics is my hobby. When I was in college I had some experience with microcontrollers; I did few projects with Atmel's AT89C51. Recently, I have grown interest on PIC microcontrollers, and I thought I should start with 8-pin microchips. I picked PIC12F683 microchip. This microcontroller fascinated me a lot because I wanted to see what we can do with an 8-pin microcontroller (out of which 2 ...
Read more

›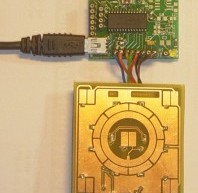 TD-USB-02 interface with touchpad sensor board and WinAmp interface. This is an example USB project showing how to interface a touchpad sensor (the AD7142ACPZ) with a standard XP/Vista computer. The TD-USB-02 board with a PIC18F2550 communicates with: the PC: USB 2.0 through a mini-B connector. the touchpad sensor board: SPI over 8-wire flatcable. PC WinAmp application controls (start/stop, next/previous tr ...
Read more

›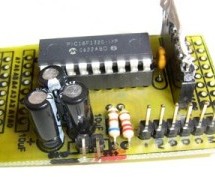 When I started building Microcontroller projects I built a lot of them using the same PIC microcontroller board. These were based on the PIC18F1320 chip since I bought a lot of them. There are many other chips in the PIC family that would be equally well suited to the projects on this site. Be aware though that, although different PIC chips program similarly, there are differences because of the varying cap ...
Read more

›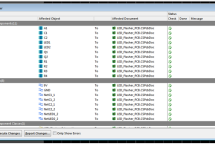 OK, further to Part 1 of this blog where we created a schematic, now it's time to move to the PCB. If you still don't have your license, get a trail from here: Professional PCB design tool | CircuitStudio And some more information from here: https://www.element14.com/community/docs/DOC-73745?ICID=designctr-devtools-info Open up the project (well, if it's not open already..) and click on "Proje ...
Read more

›
Quad Channel Relay Board is a simple and convenient way to interface 4 relays for switching application in your project. Features Input supply 12 VDC @ 170 mA  Output four SPDT relay  Relay specification 5 A @ 230 VAC  Trigger level 2 ~ 5 VDC  Berg pins for connecting power and trigger voltage  LED on each channel indicates relay status  Power Battery Terminal (PBT) for easy relay output and aux power conne ...
Read more

›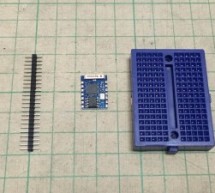 This instructables show how to test ESP board on bread board without soldering, especially for ESP-07 and ESP-12(E) and may be ESP-03. ESP board most require 2 mm pitch connector but most bread board are 2.54 mm pitch, It need some tricks on connect between ESP board and bread board. Step 1: Preparation 2 mm pitch male pin connector with 14 or more positions, e.g. http://www.digikey.com/product-detail/en/3m ...
Read more

›
This PIC microcontroller based RC driver is able to control 4 RC Servo by on board independent 4 potentiometer , 4X3PIN header for RC servo interface, screw terminal for supply input, on board power LED, optional 4X3PIN header connector for external potentiometer. Features Microcontroller based design for greater flexibility and ease of control Individual servo controlled via onboard preset or external pote ...
Read more

›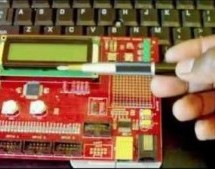 EQ PIC DEVELOPMENT BOARD. ON-BOARD MODULES. HOW TO CREATE A PROJECT IN MPLAB X AND DOWNLOAD THE CODE ONTO THE EQ PIC DEVELOPMENT BOARD USING A BOOTLOADER. Ghana movies HOW TO CREATE A PROJECT IN MPLAB X AND DOWNLOAD THE HEX FILE ONTO THE EQ PIC DEVELOPMENT BOARD USING A BOOTLOADER. ...
Read more

›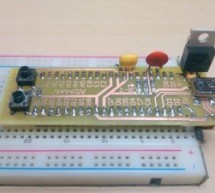 For a long time now I've been wanting to make my own microcontroller-based prototyping board. My original motivation was the unjustified high costs for even the simplest boards (a basic Arduino for $30 - why???) and the challenge of designing something that anyone can make at home within a few hours, with parts that can be cheaply obtained on eBay. Eventually, I came up with the PICMAN. It is: Based on Micr ...
Read more

›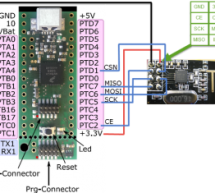 Alternatively, a USB CDC or UART (Serial) connection can be used. I'm not going much into details how to use the nRF24L01+, RNet and all the other components. Check the links at the end of this article for more details. Summary With this project I have the tinyK20 board enabled with 2.4 GHz wireless connectivity for less than $3 using the Nordic Semiconductor nRF24L01+ transceiver. I plan to use this in one ...
Read more

›