Description Create a design and simulate using EE-Sim: [MAX15058] The MAX15058 high-efficiency, current-mode, synchronous step-down switching regulator with integrated power switches delivers up to 3A of output current. The device operates from 2.7V to 5.5V and provides an output voltage from 0.6V up to 94% of the input voltage, making the device ideal for distributed power systems, portable devices, and pr ...
Read more

›
I was thinking about making a resistor decade box, but I found the rotary switches that are used in these most of the time rather expensive and a bit old fashioned. That's why I decided to use a rotary encoder and select the resistors with a microcontroller. Now I only had to find a way to "make" the resistance. Switching resistors with transistors or mosfets gives a high switch resistance and can't handle ...
Read more

›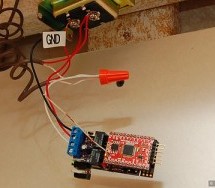 UPDATE: I eventually decided to use a single switching regulator that I found on digikey which is both awesome and well priced. See this blog post update about it. My first DoorBell Mote prototype was working nicely and it allowed monitoring the door bell (while also triggering it remotely – toddlers love it). But I wanted more. On weekends the family likes to get a well deserved nap during the day and ofte ...
Read more

›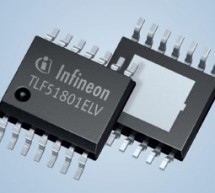 Modern DC/DC controllers from company Infineon, like TLF51801ELV manage even big challenges. Perhaps everyone knows, that modern switch-mode power supplies are able to efficiently convert voltage and to replace linear power supplies. Features of ready-made DC/DC modules as well as SMPS controllers themselves are still better and nowadays it´s no problem to construct a 10A power supply on a small area. It is ...
Read more

›
Description The ISL9307 is an integrated mini Power Management IC (mini-PMIC) ideal for applications for powering low-voltage microprocessor or multiple voltage rails with a battery as an input source, such as a single Li-ion or Li-polymer. ISL9307 integrates two high-efficiency, 3MHz, synchronous step-down converters (DCD1 and DCD2) and two low-input, low-dropout linear regulators (LDO1 and LDO2). The 3MHz ...
Read more

›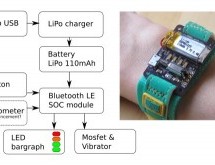 Introducing... the Energy Wristband A wristband that tells you energy changes in your home. It connects via a Raspberry Pi computer to a base station like a'current cost' or similar. When a change in energy usage occurs, the wristband vibrates and a small LED bargraph shows your current usage from 1 to 4. Realtime energy use can be queried by pressing the button. Temporary ownership = maximum ...
Read more

›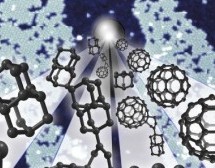 Scientists working at the Stanford Institute for Materials and Energy Sciences (SIMES) claim to have created a molecule-sized electronic component just a few nanometers long that conducts electricity in only the one direction. In essence, a rectifier diode, but one so small that it may one day help replace much bulkier diodes and other semiconductors found on today's integrated circuits to produce incredibl ...
Read more

›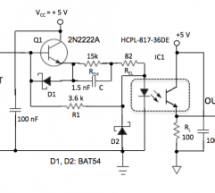 Standard optocoupler speed is limited mainly by the relatively slow response of the phototransistor. This Design Idea adds components to the LED drive side to speed things up. Figure 1  The speed-up circuit not only increases speed of propagation of a rising input signal, but achieves this speed-up at lower power consumption, compared to simplistic driving of the LED through a resistor. R1 is the original L ...
Read more

›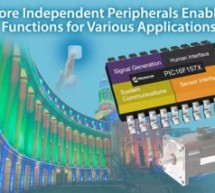 Microchip has introduced two new 8-bit MCU families with integrated Core Independent Peripherals (CIPs). You may be thinking that 8-bit processors are unlikely to cut the mustard for many of today's applications but built-in interconnected CIPs combine to perform functions autonomously, without intervention from the processor. This makes these new 8-bit families suitable for a much broader range of applicat ...
Read more

›
Clamp multimeter UT204 measures reliably even in real conditions of nowadays mains supplies and for an affordable price moreover. UT204 from company UNI-Trend is a near relative to the UT203. multimeter. Already UT203 provides a lot of user comfort and a very pleasant feature - measuring of a DC current without interrupting a measured circuit. However UT204 is different from its "weaker" brother in one esse ...
Read more

›