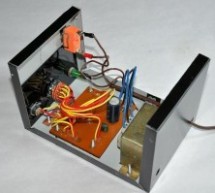 In this post we introduce simple and flexible, regulated low voltage power supply unit. This power supply has provision for 4 outputs such as 1.5V, 1.8V, 2.5V and 3.3V. We mainly build this low voltage power supply unit to test (and power-up) low voltage MCUs, CPLDs and radio receivers. For this power supply we choose 1.8V, 2.5V and 3.3V to get it compatible with most of the LVTTL/LVCMOS devices. Other than ...
Read more

›
The Internet-of-Things Power Meter (IPM) is a device fixed on top of the regular household power meter that provides detailed information about the electricity usage. Modern power meters have a LED blinking every time a Watt is used, the IPM detects these flashes using a light sensor, counts them, saves the values to an SD card. Later the data is stored to the cloud. Usually power companies provide very rou ...
Read more

›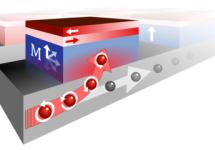 A magnetic bit is being switched by bending electrons with the correct spin upwards through the bit. A special anti-ferromagnetic material on top of the bits makes the process reliable. Source: Arno van den Brink Use your computer without the need to start it up: a new type of magnetic memory makes it possible. This 'MRAM' is faster, more efficient and robust than other kinds of data storage. However, switc ...
Read more

›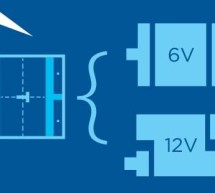 Cree has crammed up to 2,250 lm capability into a 5x5mm LED – achieved at 19W. The LED is called XHP50, the first in a family of XHP lighting LEDs. "At its maximum current, the XHP50 provides twice the light output of the industry's brightest single-die LED, the XM-L2 LED, at a similar lumens per watt and without increasing the package footprint." said Cree. Cree may be making an error here as Luminus' sing ...
Read more

›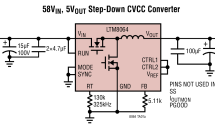 Features Complete Step-Down Switch Mode Power Supply CVCC: Constant-Voltage, Constant-Current 2-Quadrant: Sources and Sinks Output Current Parallelable for Increased Output Current, Even from Different Voltage Sources Adjustable Output Current Up to 7A When Sourcing or 9.1A When Sinking Wide Input Voltage Range: 6V to 58V 1.2V to 36V Output Voltage Selectable Switching Frequency: 100kHz to 1MHz (e1) RoHS Co ...
Read more

›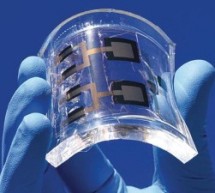 Whether they're for sensors in artificial skin that demands flexibility or for wearable electronics where the circuits must withstand our sweat, silicon-based chips aren't always up to the task. Now, an international research team has developed a way to fabricate flexible, water-loving logic circuits and sensors without the need of semiconductors. Instead, what the researchers have done is coat gold nanopar ...
Read more

›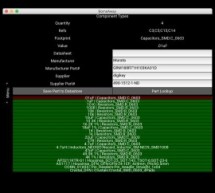 IMO, KiCad is one of the best EDA tools out there, with just one major problem: Bill of Materials management is rough. If you make more than 1 board a year, you probably know how frustrating it can be to get everything together for an order. There are multiple ways to export a BOM (each with their own ups and downs), and the process of selecting and entering components is excruciatingly manual. You can of c ...
Read more

›
XMOS is shipping its  xCORE-AUDIO processor family and sampling its Gigabit Ethernet enabled xCORE-200 multicore microcontroller family.  "There's a big trend for much better audio content," XMOS CEO Nigel Toon told EW, "there's a backlash against MP3. They're going to much higher quality helped by the fact that  you can now transfer big audio files. Sony is pushing hi-res audio DSD digital streaming. The m ...
Read more

›
After making the switch from AVR to STM32 microcontrollers, I redesigned my old 6-pin ICSP pogo-programming adapter for SWD. The new design allows programming with pogo pins or a small pin header soldered to the pogo pads for debugging, all with the same cable. The footprint uses surface mount pads only, so it can be placed on even the most compact board layouts. designed a small PCB which mounts directly o ...
Read more

›
Microsemi is selling its SmartFusion2 SoC FPGA dual-axis motor control kit with a modular motor control IP suite and reference design for $599 for a limited period. The kit, which simplifies motor control designs using a single SoC FPGA, is scalable across multiple industries such as industrial, aerospace and defense. Typical applications include factory and process automation, robotics, transportation, avi ...
Read more

›