There are thousands of different electronic component distributors and suppliers around the world, who sell similar parts with a range of different prices. However, In the course of my internet search, i stumbled upon WIN SOURCE, a Hong Kong-based electronic component distributor of commonly-used components and obsolete parts since 1999. They boast of over hundreds of thousands of different electronic parts, with a pocket friendly price, especially if you are purchasing in bulk or individually.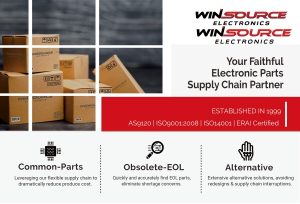 They distribute and manufacture over 100 popular brands, over 500,000 SKUs stock. 365-day with 24 hours shipment is a bright spot. They also passed several authoritative quality certifications, including AS9120, ISO9001, ISO14001 at the same time.
It is not only popular for their excellent services, certifications and website, they are also popular for the quality of their components as. Customer reviews shows that they have been satisfied with Win Source for its quality components and fast delivery. Any part you purchase has a one year warranty in case of anything is defective or wrong with them, coupled with their 24 hours delivery service, that making it one of the reasons why I would also recommend the company to all electronic enthusiast.
In order to purchase any component through their website, you have to create an account. It is a very simple process, they just need a few details. Creating an account enables you to receive personalized newsletters, and update you on everything which is going on.
WIN SOURCE's website is very detailed and easy to navigate, with the catalog displaying the whole shop's inventory, part-by-part, and also displaying the individual SKU, Ladder price and detailed description, etc.
It is worth mentioning that when I browsed the specification list, I found several special parameters, Fake Threat In the Open Market and Supply and Demand Status. This will be a valuable parameter for engineers in purchasing and purchasing. You can also check the ECAD Module and alternative parts recommendations.
They went a step further by operating a customer service email and a live chat service on their website, which is very convenient service for buyers. One aspect that is very user-friendly is that WIN SOURCE provides users with free electronic component campaign, which is really exciting for engineers who have difficulty selecting models or companies that produce sample tests.
Read more: WIN SOURCE – A GOOD PLACE TO BUY COST-EFFECTIVE COMPONENTS ONLINE