LTC3636 and LTC3636-1 are high efficiency, 4 MHz synchronous dual output buck regulators that incorporate a constant frequency/controlled on-time, current mode control scheme with phase lockable switching frequency. Their design architecture reduces conducted and radiated emissions. The devices can deliver up to 6A of continuous output current from each channel or generate a 2-phase single output up to 12A. ...
Read more

›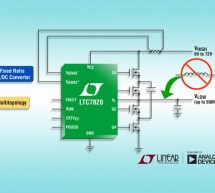 LTC7820 is, a high power fixed ratio charge pump DC/DC controller that eliminates the power inductor in a non-isolated intermediate bus converter, allowing up to a 50% reduction in circuit size and up to 4000 W/in³ power density. The 72V fixed-ratio DC/DC controller can deliver 500W. Non-isolated regulators and voltage level converters that employ energy storage in capacitors rather than inductors are well- ...
Read more

›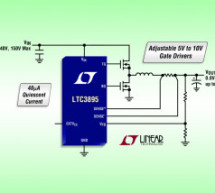 LTC3895 - 150V Low IQ, Synchronous Step-Down DC/DC Controller Features Wide VIN Range: 4V to 140V (150V Abs Max) Wide Output Voltage Range: 0.8V to 60V Adjustable Gate Drive Level: 5V to 10V (OPTI-DRIVE) Low Operating IQ: 40μA (Shutdown = 10μA) 100% Duty Cycle Operation No External Bootstrap Diode Required Selectable Gate Drive UVLO Thresholds Onboard LDO or External NMOS LDO for DRVCC EXTVCC LDO Powers Dri ...
Read more

›