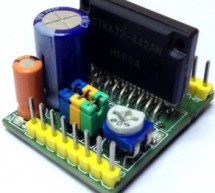 Unipolar stepper motor driver can drive unipolar motor up to 3.5A and supply range 10 To 50V DC. The board has been designed using STK672-442AEN IC.  The STK672-442AN is a hybrid IC for use as a unipolar, 2-phase stepper motor driver with PWM current control and Micro-stepping. Features Supply Up to 50V DC Input Logic Supply 5V DC Input Load Current 3.5Amps Stepper Motor: 5 Wires, 6 Wires, 8 Wires (Unipolar ...
Read more

›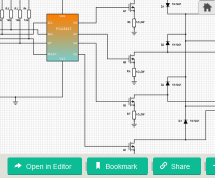 This unipolar stepper motor driver circuit is used to drive a 12V unipolar stepper motor with a current rating of 1.25A. It uses PCA9537 IC, which is a 10-pin CMOS device that provides 4 bits of General Purpose I/O (GPIO) expansion with interrupt and reset for I2C-bus/SMBus applications. It consists of a 4-bit configuration register (input or output selection), 4-bit input port register, 4-bit output port r ...
Read more

›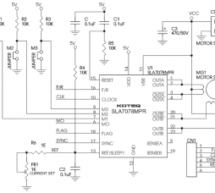 This cranial electrotherapy stimulator is a medical treatment that makes use of electrical energy to treat anxiety, depression and insomnia. It is a therapeutic tool to help heal the body, which primarily uses an electrical current to stimulate nerves and muscles through the skin. This device uses a few components such as 555 timer, decade counter and the TE connectivity's slide switch and trimmer. This TE ...
Read more

›
Hello friends, this article, unipolar stepper motor control circuit related work. The purpose of this circuit is connected to unpolar stepper motor I designed buttons, select the number of steps we determined the direction, speed, and with it a system that implements the step motor commands. Pic16f877 microcontroller circuit. When first working circuit stepper motor 120 degree back and forth by applying sig ...
Read more

›