BEAVERTON, Ore., March 15, 2016 /PRNewswire/ — Tektronix, Inc., the world's leading manufacturer of oscilloscopes, today introduced the P7700 series of TriMode™ probes for use with Tektronix performance oscilloscopes. Offering up to 20 GHz bandwidth, the new probes ease the challenges designers face when debugging circuits found in the latest mobile and enterprise designs by minimizing probe loading, improving access to smaller, more-densely packed test locations and lowering overall cost of ownership.
"In highly competitive markets like mobile and enterprise computing, our customers are looking for every opportunity to accelerate design cycles," said Chris Witt, General Manager, Probe Solutions and Mainstream Oscilloscopes, Tektronix. "The new P7700 Series are the perfect complement to our comprehensive test solutions and high-performance oscilloscopes, allowing designers to probe low-power devices with greater fidelity and more convenient signal access than ever before."
Efficient test and debug of the latest standards from LPDDR4 to MIPI D-PHY and C-PHY requires probes that minimize signal loss to cope with the challenging combination of high-performance and low power. Unlike other probe designs that use long tip cables connected to a remote amplifier, the P7700 Series probes introduce a breakthrough new design where the probe's input amplifier is located <4mm from the connection point, minimizing signal loss, probe tip capacitance and noise. Further, the signal path of the P7700 probes is fully characterized and automatically de-embedded from measurement results.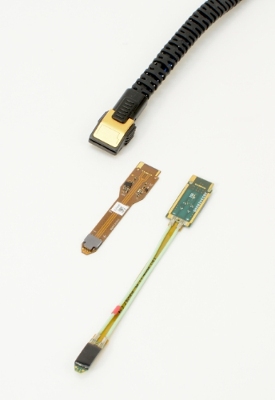 Another major challenge is gaining access to signals on increasingly smaller devices. Connections to high speed signals often require engineers to attach probe tips by soldering to a small component or feature on a circuit board. As the size of these features shrink, they become more fragile and attaching a probe tip can add stress to the component or the circuit board. In addition, multiple probe connections are often required to capture signals on multiple lanes of a MIPI bus or for LPDDR memory, the data, strobe, and clock signals. The P7700 series probes use compact solder tips that fit into tight spots to minimize the impact on the small size components on the board.
For more detail:  Tektronix Introduces the P7700 Series Tri-Mode Probes to Minimize Probe Loading, Improve Access to Tight Test Locations, Lower Costs