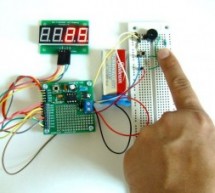 The goal of this project is to construct a simple 0-9999 seconds count down timer with an alarm and a display. The time is set through two tact switches and the count down seconds are displayed on a 4-digit seven segment LED display. The project uses PIC12F683 microcontroller for all I/O and timing operations and MAX7219 IC for driving the seven segment LED module. The time out condition is indicated by an ...
Read more

›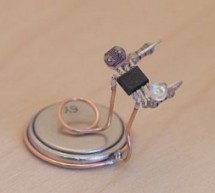 Alex Weber over at Instructables built a great programmable LED based on the AVR chip.  Since I am tooled for PIC, I thought it would be fun to replicate what he has done. This simple project is fun and it provides a great building block for playing with collective behaviors. This is a How-To for constructing a PIC-based programmable LED. Following Alex Weber's post on Instructables on 6 March 2007, I cre-a ...
Read more

›
Frequency Detector using PIC 12F683 Processor This project describes hardware and software I have developed which allows a small 8 bit PIC microprocessor to function as a single frequency detector or tone decoder. Such a circuit can be used to detect the presence of a certain frequency within an analog signal, such as an audio signal.  I could be used in remote control applications, or to detect musical not ...
Read more

›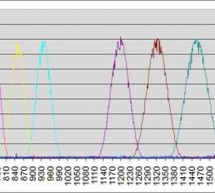 DTMF Touch Tone Decoder Using Microchip PIC Microprocessor This project contains the details of using a Microchip PIC12F683 8 bit microprocessor to detect DTMF tones. The completed program allows the processor to be programmed with a string of DTMF tones to detect. If the programmed string is detected in the audio applied the audio input, the output will turn on (go high), and can be used to control other c ...
Read more

›