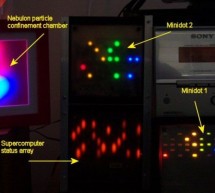 Minidot 2 - The holoclock Well maybe holoclock is a little bit inaccurate....it does use holographic dispersion film on the front to give a bit of depth. Basicaly this instructable is an update to my previous Minidot located here: http://www.instructables.com/id/EEGLXQCSKIEP2876EE/ and re-using a lot of code and circuitry from my Microdot located here: http://www.instructables.com/id/EWM2OIT78OERWHR38Z/ Eag ...
Read more

›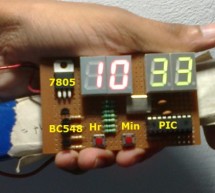 Here I am going to teach you a simple circuit of 24 hour digital clock display that can also be used in 12 hour format by simply loading the corresponding clock program. You can download the hex files for both 12 hour format and 24 hour time system from the link given in this article. Coming to the technical part, main component of the circuit is a PIC16f84A microchip; it generates the one second clock to r ...
Read more

›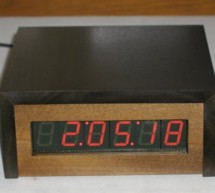 Introduction There are many DIY versions of WWVB clock designs available on the web. Commercial "atomic" clocks are inexpensive and widely available, but I wanted to try my hand at designing one to gain insight into WWVB reception and to learn a little about programming a PIC microcontroller. My version is not the simplest available, but it works well and I think it offers a few unique features. WWVB Clock ...
Read more

›
This is a simple countdown-timer-on-a-chip project - you program the PIC, attach some buttons and a pair of 2-segment LEDs, and you are done. I used this timer for one of my projects, but I tried to make that timer as generic as possible, so it can have other applications. On this site I describe only the timer itself - code, pinout, and operation. If you want to see something built with the timer, check my ...
Read more

›
Always the right time and date with DCF77 This project make use of a PIC16F628(A) and a DCF77 receiver from Conrad (Orderno. 64 11 38) Optional there is a possibility to connect an electronic gong on it. Click for information about DCF77 on the link underneath: The working from the DCF77 time signal Connect the output from the DCF77 module with PORTB.0 (pin 6). The pull-up resistor on the DCF77 output isn't ...
Read more

›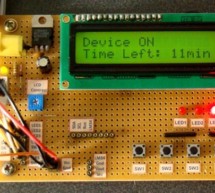 Here is 0 to 99 minutes relay timer using PIC16F628 microcontroller and 16 character LCD display. The microcontroller is PIC16F628A running at 4.0 MHz clock using an external crystal. An HD44780 based 16×2 character LCD is the main display unit of the project where you can watch and set the timer duration using tact switch inputs. There are three tact switches connected to RB0 (Start/Stop), RB1 (Unit), and ...
Read more

›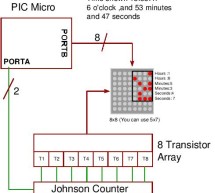 You can use a PIC microcontroller and an LED matrix to create a binary clock (or if you prefer you can wire up individual LEDs). This project uses an LED matrix block as it saves lots of wiring.  So what is it ? Its an led clock that displays the time information as binary numbers... ...and it is a good way of learning how to read binary (well up to 9 any way!). You can represent the numbers 0-9 using 4 bin ...
Read more

›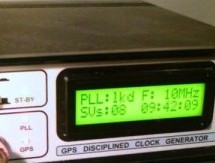 GPS satellites and GPS Ground Segment need extremely accurate timing to allow GPS users to know their own position on the Earth. Rubidium and Cesium clock generators are extensively used and maintained to synchronize and generate the signals that our inexpensive navigator gets from the GPS satellites orbiting at 20000 Km. Many commercial systems use the same GPS signals to extract time marks or high-frequen ...
Read more

›
In this post I'm going to show you how to interface an I2C Real Time Clock – RTC with PIC microcontroller. Only a basic hardware configuration and a communication protocol are presented here. I'm planning to extend it to a more advanced design in a near future. Although PCF8573 was used a similar IC's like PCF8583 will also fit with minimal changes to PIC software. The PCF8573 is a real time clock/calendar ...
Read more

›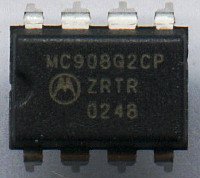 Build a timer with Motorola Nitron MCU and using ICC08 to develop c program. Loader schematic also included. New s-record for 8-pin 68HC908QT2! My son got his fan in the bedroom. The fan has mechanical timer for 0-180mins. One day it broken. So I got the idea to use Nitron chip to replace the mechanical timer. Someone may ask me why so complicated timer made by microcontroller chip? Actually we can build a ...
Read more

›