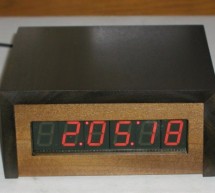 Introduction There are many DIY versions of WWVB clock designs available on the web. Commercial "atomic" clocks are inexpensive and widely available, but I wanted to try my hand at designing one to gain insight into WWVB reception and to learn a little about programming a PIC microcontroller. My version is not the simplest available, but it works well and I think it offers a few unique features. WWVB Clock ...
Read more

›
Description This software functions as a long period astable mutivibrator.  The mark and space period can be set from 1 second up to a maximum 65535 seconds (18h12m15s). Using the internal 4Mhz RC oscillator delays with an accuracy of 99% or better can be achieved  The code also implements an edge triggered reset and an active low hold function.  The reset edge can be configured for rising or falling edge.  ...
Read more

›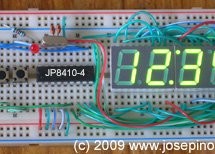 A 12hr/24hr LED Clock with display control, uses a microcontroller PIC 16F84A or 16F628A and a few parts. (August 25, 2009) This LED clock may not be the easiest to build but surely it is the one with fewer parts that you can find, for that reason I call it "The ANP LED Clock". (ANP stands for Almost No Parts.) Using the micro controller PIC 16F84A or the 16F628 (same pinout), this clock have more and impro ...
Read more

›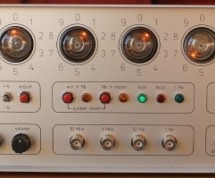 Introduction In the 1970s I worked for a while for the UK Atomic Energy Authority (UKAEA) at a site in Winfrith, Dorset. Amongst a lot of other interesting work, I used a gamma ray density gauge that amounted to a caesium-137 source, in its castle and collimator, the target (various), a sodium iodide detector (from memory), a photomultiplier and a series of counters using dekatrons. Having spent hours takin ...
Read more

›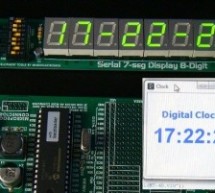 "Ready for PIC" is one of MikroElektronika's compact prototyping boards for 28 and 40 pin PIC microcontrollers. The board comes with PIC16F887 microcontroller which is preprogrammed with an UART bootloader firmware and thus eliminates the need of an external programmer. The on-board USB-UART module allows the serial data transfer between the PIC and a PC using an USB cable. It has also got a reasonable size ...
Read more

›
This is the lowest cost dialing alarm on the market and shows what can be done with an 8-pin microcontroller. The complete circuit is shown below. You cannot see all the features of this project by looking at the circuit - most of them are contained in the program. So, read on and see what we have included. . . Dial Alarm-1 has a single input (although a number of sensors can be placed in parallel on the sa ...
Read more

›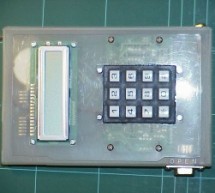 Old Alarm Clock Problems wake's Quozl's wife, a side-effect, needs to be armed each evening, 12-hour clock, cannot be armed more than 11.5 hours before alarm time, triggers at plus or minus ten minutes, depending on how it was dropped, battery cover needs to be removed to change time, changing time at daylight saving loses minutes and seconds, immitated by rural birdlife, causing false triggers, second hand ...
Read more

›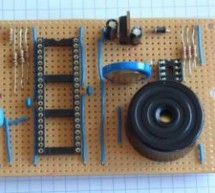 The idea for this project came from my youngest son who asked me to make him an alarm clock. I put together a simple PIC based design comprising of two interlinked vero-board cards. The design was created using New Wave Concepts' LiveWire which allows you to simulate the effect of the signals on the components - very useful it you are new to electronics like me - If only it could simulate the PIC too!. The ...
Read more

›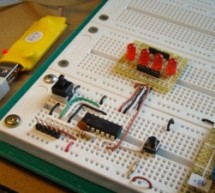 Description Today's lab session is about binary counting LEDs. The binary 1 and 0 will be represented by turning LEDs on and off. You will make a 4-bit binary counter (using 4 LEDs) that counts from 0 to 15 (0000-1111 binary). The four LEDs are connected to RC0 through RC3 port pins of PIC16F688 with current limiting resistors (470Ω each) in series. A push button switch is connected to pin RC4 to provide in ...
Read more

›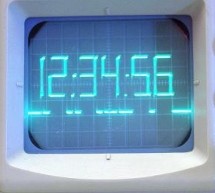 For those are not into electronics, you must know that an oscilloscope has basically only one timebase to move the spot horizontally from left to right with the same intensity. The vertical deviation is function to the input voltage. You understand immediately that you can't directly display 7 segment digits, because you can't move the spot from right to left. By using X/Y mode, where the spot is controlled ...
Read more

›