This is a very small telephone exchange attached only two ordinary Tele phones. Fully bi-directional facility with an intercom system. When a phone is in off hook condition , Exchange will detect it & send ringing pulse to other phone. When it will be picked up , the connection will be established between both phones. This will be taken place vice-versa.
Micro Controller = PIC16F84A
Firmware version = 1.00
Power Supply = 230 v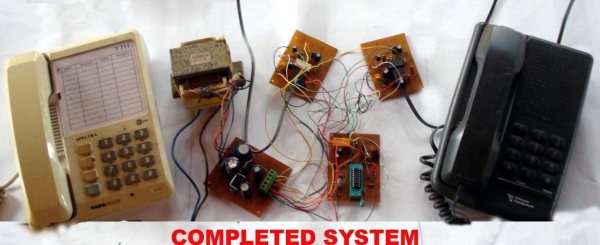 Power Supply Unit
The Power Supply  Unit.
This is used normal step down transformer (400ma) for generating three type of deference voltages & 100 AC volt for rigging.
It doesn't provided a PCB pattern for the power supply unit. So a Vero board can be used to build the unit.
Parts List :
1.Step down transformer ( 230 V to 30 V , 15 V  & 100 V )
2.Two bridged 1 A rectifiers
3.7805 – 5V regulator
4.7812 – 12V regulator
5.1000 uf – 35 V
6.1000 uf – 16 v
7.150 ma fuse & it's holders.
8.Necessary Wires & a wire code for AC supply.
The controlling unit ( Exchange )
This circuit is base on PIC16F84A microcontroller. Two slimier SLIC are connected to The controlling unit. It needs to identify following connections on the controlling unit circuit diagram.
TN_SLIC_1 & TN_SLIC_2
SD_SLIC_1 & SD_SLIC_2
RG_SLIC_1 & RG_SLIC_2
One SLIC connections should be marked as,
1. TN_SLIC_1
2. SD_SLIC_1
3. RG_SLIC_1
Other SLIC connections should be marked as,
1. TN_SLIC_2
2. SD_SLIC_2
3. RG_SLIC_2
These connections should be connected as on the controlling unit circuit diagram.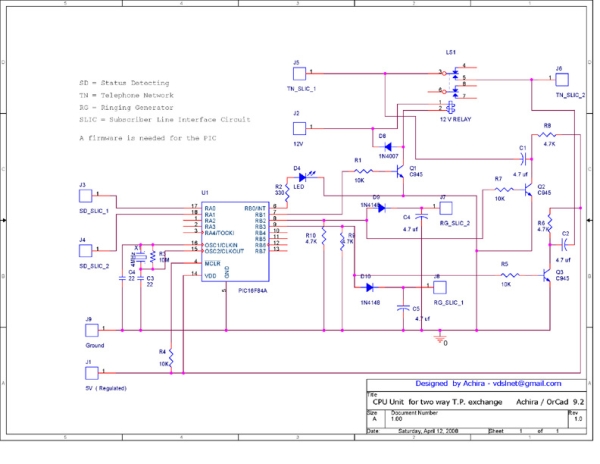 Parts List :
Transistors
1. 2SC945 x 3
Diodes
1. 1N4007 x 1
2. 1N4148 x 2
3. LED x 1
Capacitors ( 16 V )
1. 4.7 uf x 4
2. 22 pf x 2
Resistors
1. 10 K x 4
2. 4.7 K x 4
3. 330 x 1
Other Parts
12 V telephone rely x 1
Necessary wires
PIC16F84A with the firmware
For more detail: Two way Simple Very Small Telephone Exchange