A switching voltage regulator is one of my favorite circuits. In school, they were the first circuits I built where I understood how transistors worked. In fact, they were the first circuit I saw an inductor being useful! Switching regulators are incredibly efficient when designed properly. Of course, this detail about design is important. They are not as simple as a linear regulator, which is basically an ...
Read more

›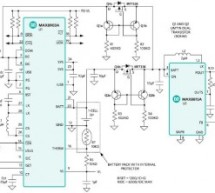 Abstract: Design provides a simple method for maintaining an uninterrupted +5V even while switching between the external +5V supply and a rechargeable single-cell Li+ battery. Some portable applications need to be powered up from an external +5V wall adapter supply and still require a +5V system voltage when in battery-backup mode. This design provides a simple method of switching between the external +5V s ...
Read more

›
Manual switching of outdoor lights in houses or roadways can be sometimes really inconvenient especially when we are far away or still at work. Sometimes this becomes an opportunity for thieves to infiltrate houses or a possibility of accident in roadways if night comes and our outdoor lights are still OFF. That is why the goal of this circuit is to automatically switch ON outdoor lights when it senses that ...
Read more

›