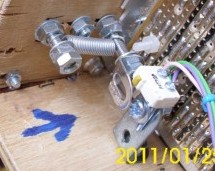 Connections The following table documents the connecting leads and molex pin-header numbers tying the various interfaces together. Header Pin no. Signal/Function Direction Header Pin no. Signal/Function Chord Controller-SV1 1 RD7 ——> Matrix Decoder-SV4 1 Chord Sel. C Chord Controller-SV1 2 RD6 ——> Matrix Decoder-SV4 2 Chord Sel. B Chord Controller-SV1 3 RD5 ——> Matrix Decoder-SV4 3 Chord Sel. A Cho ...
Read more

›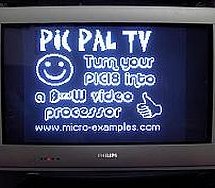 If you are into PICs, you maybe tried one day or another to build a software video processor, either for fun or for a project. If you tried to generate video signals, you surely know some of this web pages : Rickard Gunees PIC PONG page : http://www.rickard.gunee.com/projects/ Eric Smith video clock : http://www.brouhaha.com/~eric/pic/pictock.html This projects are fun, but I wanted to build a general purpo ...
Read more

›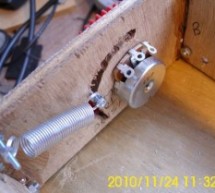 How chords are formed Before discussing the processor board and software, it is worth mentioning how the chords are composed. I have provided the table below which shows the installed chords together with the intervals/notes they are constructed from, and examples of each in the key of C major. Since the source-code is provided, and heavily commented, you can experiment, both with the actual chords installe ...
Read more

›
Every time I sit down to document one of my projects, I try to remember the occasions in the past when looking at the finished web page, I might say 'Well, I won't do that again!', because despite how many drafts I've gone through, there is always some aspect of the presentation that fails to measure up to my expectations. Then there's the question of boredom. I don't want all my project pages to look exact ...
Read more

›
PC Interfacing a GameBoy Camera Here's another past project of mine from a couple of years ago. At that time I was looking for a low-res camera for simple robotics image processing, and all I had experience with was PIC (12, 16, and 18) microcontrollers. So I didn't really get to work on the images real time (not enough RAM or speed, and I could not find any suitable SRAM around at that time). I thin ...
Read more

›