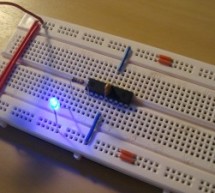 This post provides the LED blinking code (compiled in MPLAB + HI-TECH C) for PIC18F452. Complete project code and the proteus simulation can be downloaded from the Downloads section at the bottom of this post. The following diagram shows the required circuit. In this project a crystal of 10MHz is used with PIC18F452. This crystal frequency is fed into PLL of PIC18F452, which boosts it to 40MHz. As we know t ...
Read more

›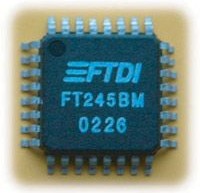 Here is an example of how to interface a PIC18F452 to a PC  via the USB port. The windows-pc (98, Me, 2000, XP, 2003) runs a program (C# application, Microsoft Visual Studio .NET 2003) to communicate with the USB interface, which transfers data to and from the PIC18F452. Many thanks to FTDI to deliver royalty-free drivers (FTD2XX.dll) and to KOPF to develop the needed library (AID.dll) All parts are availab ...
Read more

›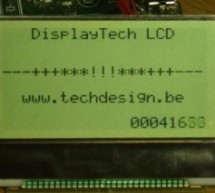 Here are the technical specifications: LCD resolution: 128 x 64 pixels LCD manufacturer: DisplayTech. LCD model 1: 64128COG-FA-BC (no backlight) LCD model 2: 64128G-FC-BW-3 (white LED backlight) On-glass lcd controller KS0713, with 30 pins connector. Very low power operation (less than 1mA @3V) Fast serial interface (only 8 wires needed) Molex miniature connector. LCD: dimensions: 56 x 41 mm PCB interface: ...
Read more

›
Here are the technical specifications: OLED resolution: 96 x 64 pixels OLED manufacturer: OSRAM. OLED model: Pictiva 1.1 inch OS096064PN11MY0B10 (San Diego.) On-board lcd controller SSD1303, with 31 pins connector, can be soldered directly. Low power operation (less than 15-25mA @3V, depending on contrast/brightness setting) Fast serial interface (only 8 wires needed) Molex miniature connector. OLED: dimens ...
Read more

›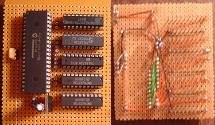 Personal Radar System using PIC MIcrocontroller PIC18f452 is a microcontroller hobby project. The circuit diagram of radar is attached here below seemed a little bit simple schematic but you need careful reading of PIC18f452 radar circuit to avoid any damage. The project of personal Radar System using PIC MIcrocontroller PIC18f452 uses three main devices to create the personal radar system which are listed ...
Read more

›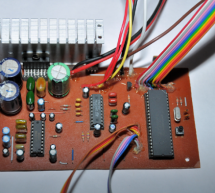 This article introduces high quality digitally controlled 2.1 channel analog audio power amplifier system. This project is mainly based on TDA7377 AF power amplifier and PIC18F452 8bit microcontroller. Basic technical features of this receiver are covered in table1. This unit is specifically design to work with PC sound cards, radio receivers and CD/DVD/Blue-Ray players. Construction This system use commonl ...
Read more

›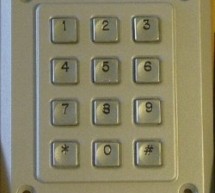 Open electrical doors with your secret code only! Here are the technical specifications: Up to two keypads may be connected to drive both relay outputs. Professional, outdoor or other keypads may be used. Relay outputs are configurable: output voltage +6 to +24VDC (from power input) or simple switch emulation. The small LCD is optional, and can be omitted. Low power operation with internal switching power r ...
Read more

›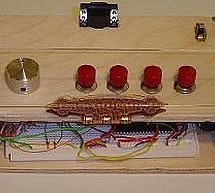 The goal of this project is to create a device that is capable of outputing VGA signals to a CRT monitor inorder to display figures, text and characters. Timing is a core essential in this project. If the signal is off by even 1 microsecond, the signal synchronization with the CRT display will be lost and forced to resync. This will be done using a Microchip PIC microcontroller at 4 MHz clock speed. The pro ...
Read more

›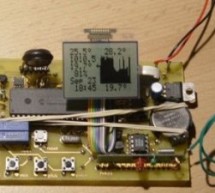 Weather station with pressure reading, relative humidity, indoor & remote outdoor temperature display. Both Celsius or Fahrenheit & mbar/hPa or mm Hg  supported. With calendar & clock. Easy 3-button user-menu. 42 hour-history display (curve). Auto-memory & display of all high and low-values. PIC 18F452 running at 4 MHz, power saving sleep mode. Sensors are only turned on when needed. All par ...
Read more

›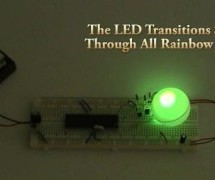 A very popular type of LED that has finally come about is the tri-color, RGB LED. The RGB stands for: red, green and blue since the LED is capable of displaying all three colors, independently. This means that an RGB LED can display any color of the rainbow. This is a powerful capability, but it also requires more control. In this article, we shall look at how to build an RGB LED controller so that we have ...
Read more

›