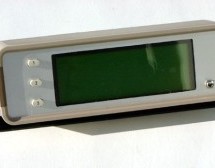 Introduction This circuit is a repeater for GPS data. It is intended to connect to Garmin-38 (and similar) hand held GPS receivers that don't have external antennas. The purpose for the repeater is to allow the GPS to be outside, exposed to the satellite view, and allow the user to see the data below decks at the navigation station. Versions Within the code there is opportunity to easily configure for a 16x ...
Read more

›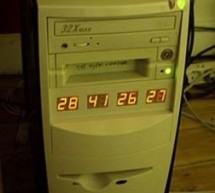 Since I started my watercooling prejoect, I have been verry interested in how well it perform, the only way is to measure all temperatures before and after, The motherboard temperature sensors is useless unacurate, so I'm using LM50B By using this LM50B sensor I get 1 C of real accuracy I use a PIC16F876 to drive a four two digits LED displays, the PIC16 has 4 analog inputs with 10 bits resolution, now I ca ...
Read more

›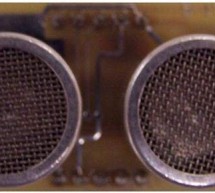 Ultrasonic distance measurement, detection circuit pic16f876 microcontroller and ad605 (Dual Low Noise Variable Gain Amplifier singlesupply) integrated circuit diagrams used are C and asm software also Resimlerdede oscilloscope's measurement. 40kHz ultra sonic transducers used as sensors. I2C Sonar Ultrasonic Range Finder In many embedded systems design, it becomes necessary to have the capability of discer ...
Read more

›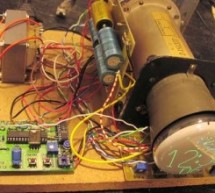 Powersupply and CRT deflection and microcontroller test circuit. I was lucky to purcase two used but working DG7 tubes and a transformator cheap, one from Mullard and one from Phillips. Other CRT Cathode Ray Tube types can be used, you can even rip one from an old and maybe dead oscilloscope, then you also get the powersupply and stuff, if you are lucky the deflection amplifiers also work :-) Then your own ...
Read more

›
Introduction This circuit is a data logger that records voltage samples at specific time intervals. I've used it to record the voltage discharge curve on NiCad battery packs. The data file can be dropped into a spreadsheet and plotted. I've also used it to record the amount of time a possibly defective refrigeration unit was running during a 24-hour period (using a current clamp and full wave bridge.) Featu ...
Read more

›
Updated 3. Sep. 2002. If you are from Denmark ! read the Danish version !! In the good old days I had some parts but now This Wattmeter is in ELEKTOR MAGAZINE OKTOBER 2002, they will sell PIC and PCB The extra input B is for a later SWR brigde project, also the TX serial output will be in use later. The uncalibrated signal response is: +1/-1 dB from 1MHz to 450MHz. Input SWR vill varry from 1.00 to 1.30, de ...
Read more

›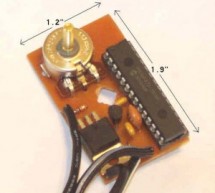 If you do not have EAGLE, you can download a full working version from CadSoftUSA http://www.cadsoftusa.com Here is a zip file with the EAGLE schematics and PCB layout.  http://hans-w.com/MotorSpeedEAGLE.zip New ! Source code  available C source code... requires CCS PCM compiler. PCM is available from CCS http://www.ccsinfo.com/picc.shtml //(C)Copyright 2002 Hans Wedemeyer Houston Texas U.S.A // for use wit ...
Read more

›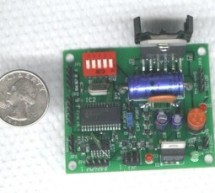 Background From the first robot I ever made, I have always felt that when designing the motors, wheels and drive train, it will almost always be important to know where you are - that is, to have some sort of encoder feedback. So the first robot I built used stepper motors, but I found that they were difficult to deal with because of the complex drive circuit required, and they are usually under-powered. It ...
Read more

›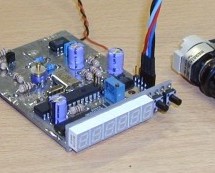 DDS (Direct Digital Synthesized) VFO seems to be very popular among amateurs in last few years, mainly thanks to cheap and easy available single-chip DDS synthesizers. There are plenty of different amateur designs, some of them also available in a KIT form. They mostly use Analog Devices AD9850 or AD7008 single-chip DDS system to generate RF output directly. Such solution is acceptable and welcome as a VFO ...
Read more

›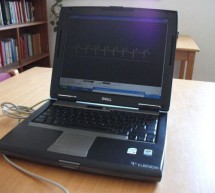 ECG on your laptop! That's right! This Instructable shows you how to build a device that enables you to do an electrocardiogram on yourself, your family or your friends! All you need is intermediate-level knowledge on electronics, access to Ye' Ol' Electronics Shoppe (or online shopping if preferred) and a laptop. The device is composed of an amplifier/filter and a microprocessor unit, everything surrounded ...
Read more

›