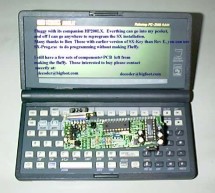 I was trying to think of a suitable name for this project, and after literally seconds of careful deliberation, I gave up and decided to call it Fluffy. Sorry. Anyway, Fluffy is a SX programmer for people who havealready experimented with PIC chips, and want to try out the Scenix SX family. I built Fluffy because I wanted to experiment with the SX's, but didn't want to spend $300 or so bucks on the official ...
Read more

›
Built using a PIC16F84, about 4 hours worth of code and a few bits on a breadboard. This was the first time I've worked with PIC's so it was a learning exercise. I started with the 'Hello World' microcontroller equivalent i.e.  Blinking LED, then tried the 'Knight Rider' sequencing LEDs, and then hacked this together. The code is written and assembled using the Microchip MPLAP IDE V5.70.  I only did this as ...
Read more

›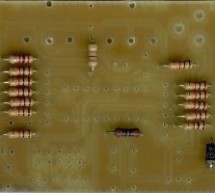 This text describes how to build my PIC16F84 based game system, before you start you should read through the whole text one time. Note that many components are sensitive to too much heat and will get damaged if you heat them too much when soldering. The drawn placement images show components to mount in each step in black and the components mounted in previous steps in gray. When soldering the components on ...
Read more

›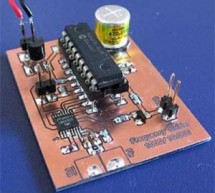 Background Most multimeters can measure frequency, but they are not sensitive and the max frequency is not always so high. The same problem can be found with older frequency counters. This project will describe a prescaler which will work up to 2.5GHz and with very high input sensitivity. The prescaler will divide the input frequency with either 1000 or 10.000. The divided output signal is 0/5 volt and can ...
Read more

›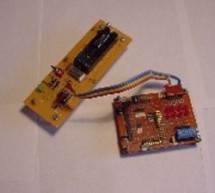 The photo shows a PIC16F84 microprocessor board tethered, by ribbon cable, to a circuit having 8 LEDs and an 8-position DIP switch. Learning a microprocessor's capabilities often demands such a setup where LEDs turn on/off, blink at desired rates and respond to switches. This tutorial serves to quickly accelerate your PIC16F84 development ambitions. Motivation and Audience An embedded micro like the PIC16F8 ...
Read more

›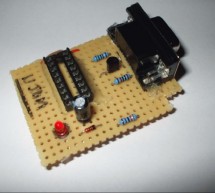 Cheap PIC Programmer This programmer works only with PIC16F84 but it's great because it never causes errors and works with almost all computers,unlike some other homemade programmers. Step 1: Step one : Materials For this programmer you won't need many materials.In fact , you will find all you need in your local electronics shop ;) So here's what materials you will need: -IC Board -RS232(Serial) FEMALE conn ...
Read more

›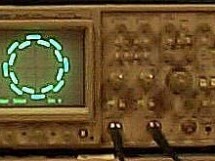 Background My friend Arthur, in his lifelong quest for circuits that don't really do anything useful, but are really neat nonetheless, built a really neat Lissajous pattern generator. This Lissajous pattern is not your traditional circle, oval, or figure-8, it is a circle with varying amplitude, in a pattern that makes it look like a sprocket. Not satisfied with that, he also made it so that the sprocket ro ...
Read more

›
This is an old design. Some of the components may be difficult to buy. If you would like to build an even better and cheaper A/D converter, take a look at the new PICADC3 design. The PICADC is a simple 12-bit, 8-channel analog to digital converter (with 4 additional digital inputs), which may be connected to the PC through the serial interface (RS232). The sequence of sampled channels, and sampling frequenc ...
Read more

›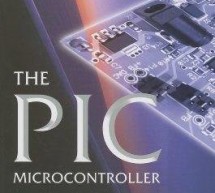 The 16F84 is deserves looking at because it is the GranDaddy of PIC Microcontrollers but you should not use it for new designs (see Below)... The PIC16F84 is a the most well known and most well used of all the PIC microcontrollers - it is used in numerous projects that you can find across the web. Even though the 16F84 is getting on a bit, it is one of the most popular of the PIC microcontrollers and there ...
Read more

›
ISD2560 to directly control the PIC16F84A, audio recordings and multiple block will be able to play. LSI can be driven directly speakers also, in view of the lack of volume, only added to the amplifier IC. This volume 10 minutes to drive the speakers. One LSI chip for voice recording playback "ISD2560″ using a simple audio recording and playback unit prototype it ISD2560 is playing this voice recording, in ...
Read more

›