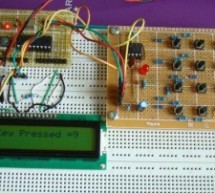 Keypads are a very commonly used input device in microcontroller-based systems. In a keypad, multiple switches are arranged in rows and columns so that they could be interfaced to a microcontroller with a minimum number of I/O pins. For example, a 12-key keypad is arranged in a 4×3 format, which allows to interface the 12 keys to a microcontroller with only 7 connections. The location of each key on the key ...
Read more

›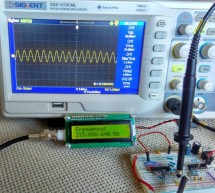 This project shows how to build a very simple yet very useful tool that every DIY enthusiast should have in his lab: a 100MHz+ frequency counter. The schematic is fairly simple and straightforward and uses a PIC16F628A microcontroller for measuring frequency and a high speed comparator for signal amplification and conditioning. The microcontroller uses its internal 4MHz oscillator for the CPU clock. Timer1 ...
Read more

›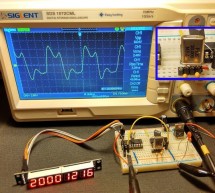 Couple of weeks ago I purchased from eBay one of these amazingly cheap an useful modules with MAX7219 LED driver and 8 digit LED display. It is ideal for frequency counter project. The problem was the absence of library for PIC microcontrolers. Luckily, I found a great library for Arduino and I reworked it to be compatible with PIC. The schematic of the frequency counter is actually almost the same as the p ...
Read more

›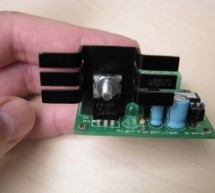 The Button Code is a system that allows a single button to act as a keypad. The user enters a 4 digit code into the system using button taps. The button can be placed where the public can access it since like a keypad there are many combinations to keep guessers from activation the system. When the correct code is entered a form-C relay is activated (Normally Open and Normally Closed relay contacts). When a ...
Read more

›
Here's another breadboard module that carries a PIC16F628A microcontroller. The power supply pins and the I/O ports of the PIC16F628A microcontroller are accessed through male headers. It can be easily plugged into a breadboard and is very useful for quick prototyping. It frees up a lot of space on the breadboard since the oscillator, reset, and ICSP circuits are already built on the module. It is different ...
Read more

›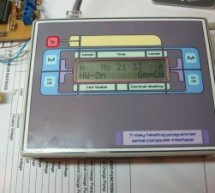 Overview This project has come about from my desire to control my home heating from work.  As I have a VPN between work and home a straightforward relay controlled from a PC would seem the easiest solution.  However I also wanted a control unit that I could operate in the house without resorting to the computer.  For example, I get up late and the heating is off, I just want to hit a button and turn it on.  ...
Read more

›
Intro: Chronograph for Air Cannon This chronograph project consists of a sensor assembly and timer circuit box that can be used to measure the muzzle velocity of a projectile fired from an air cannon. I originally built this setup for use with a large air cannon with a 3" bore. The sensor assembly is attached to the end of the air cannon barrel. It contains infrared sensors used to detect the passage of the ...
Read more

›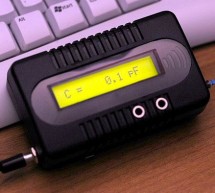 Accurate LC Meter Part's List: 1x 16x2 LCD Display with Green / Blue Backlight 1x PIC16F628A Programmed Microcontroller 1x LM311 IC 1x Accurate LC Meter PCB with red solder mask 1x Enclosure 1x Gold Plated Machined 18 DIP IC Socket 1x Gold Plated Machined 8 DIP IC Socket 1x L/C Pushbutton Switch with Black Cap 1x Tactile momentary reset switch with Black Cap 1x Gold Plated 16-PIN LCD Female Header 1x Gold P ...
Read more

›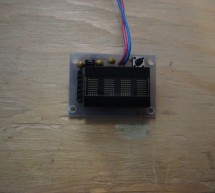 Programmable watch with four character display You'll be the talk of the town when you wear this obnoxious, oversized, completely impractical wristwatch. Display your favourite foul language, song lyrics, prime numbers, etc. Inspired by the Microreader kit, I decided to make a giant watch using similar sixteen segment displays. Twelve hours later, I came out of my masochistic fugue and stopped trying to rou ...
Read more

›
PicLink RS232 low cost development controller with ADC PICLink RS232 Embedded Controller The PICLink RS232 controller module affords any microcontroller enthusiast an easy to construct mini-microcontroller module. This embedded microcontroller is ICSP (in circuit serial) programmable and provides separate PORTA, PORTB, RS232 I/O ports, 4 Channel Analog to Digital converter as well as an integrated ICSP port ...
Read more

›