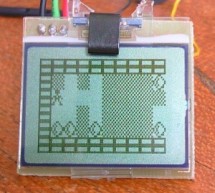 Not long ago I saw this link for a 3310 temp probe. Now ive played with other LCD's lots, but this one caught my attention because of the low power requirements (It runs from a single CR2032 Motherboard battery). I built the Temp probe as shown on the site and it worked well. I had several of the PCBs made, and decided that the others would be my own projects with the same hardware. I wondered what I could ...
Read more

›
Pulsing Hubby Detector This project uses an RF receiver module to trigger a pulsing LED Heart when the transmitter comes within range. I made this for my fiance for Valentine's Day this year. I have yet to fully test the range, as I haven't actually taken the transmitter out of our apartment building since I just finished it today. The transmitter/receiver pair that I used is hypothetically capable of up to ...
Read more

›
This time I'm starting off with a device I already built, unfortunately there won't be any photos from the actual build, just a quick article on how I imagined it and how it works. A short story about how the whole thing started My uncle has a nice little place at the countryside at about 50 kilometers away from where we live. Unfortunately there is no electricity in the house, so the lights, music, and any ...
Read more

›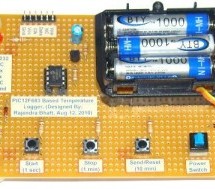 Introduction There are varieties of digital temperature logger projects available online based on different microcontrollers. The one I am going to talk about is based on a Microchip's 8-pin microcontroller, PIC12F683. It reads temperature values from a DS1820 digital sensor and stores in its internal EEPROM. PIC12F683 has 256 bytes of internal EEPROM and we are going to store the temperature values in 8-bi ...
Read more

›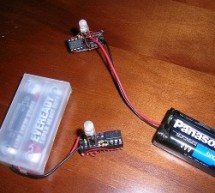 I had a few multicolor LEDs laying around and wanted to whip up a color-blending nightlight. I built 2 devices, each in its own 20 pin DIP socket without soldering. A 3-pin header is included so I can reprogram the light on-the-fly if desired. On my first build, I used wire-wrap. The next one used multiple wires pushed into the socket. A bit more difficult, but no wire-wrapping or soldering necessary. Parts ...
Read more

›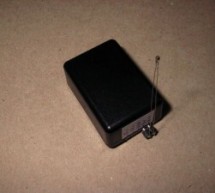 Description This project uses a MicrochipPIC microcontroller, a serial EEPROM and a thermistor to create a temperature recorder. Performance The temperature is measured and stored at user programmable intervals; this can be from 1 second to 256 seconds. The time interval is set by programming it and the start time into the EEPROM. Most of the time the PIC will be asleep and the EEPROM IC is inactive. This g ...
Read more

›
LED fireflies prototype hello all, heres an attempt i made at something like an LED throwie..the problem (for me) with led throwies is that they just consume their battery, and produce light.. but they could be better at doing both.. first you have to accept the premise that your willing to spend a bit more for the tradeoff.. the inspiration for this came from some of my other projects, and of course the "L ...
Read more

›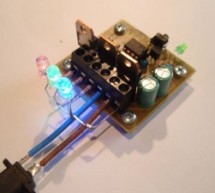 Description Since I published the original RGB LED driver (photo right) I've had many enquiries from people asking how they could make the original board work with more LEDs.  I'd already made a couple of custom boards up for myself, so I finally decided it was time to put together one for the website. The RGB LED driver described on this page uses logic level 'N' channel MOSFETs which allow it to control L ...
Read more

›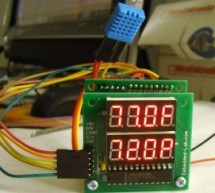 The objective of this project is to illustrate a technique of implementing adaptive brightness control to seven segment LED displays. It consists of a closed loop system that continuously assesses ambient light condition using an inexpensive light-dependent resistor (LDR) and uses that information to adjust the brightness of the display. For the proof of concept, the technique is applied to construct a digi ...
Read more

›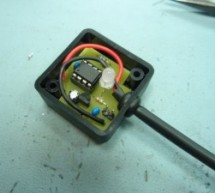 Description Recently I got a new motorbike and on my second trip out, with only 50 miles on the clock the rectifier/regulator unit failed.  The battery on a bike is pretty small and with the head light permanently on and all the ECU, ignition and fuel injection stuff it didn't take long to run the battery flat.  Fortunately I'd stopped and there wasn't enough charge left to turn the engine over, but it's po ...
Read more

›