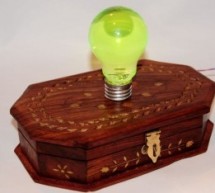 Spooky Led Lamp This is a hollowed out light bulb filled with fluorescent liquid and two UV leds plus one red led immersed in the liquid. When turned on the light bulb flickers for a while then starts to pulsate randomly with the UV leds giving a spooky but rather nice look. The bulb is held to the box by two small magnets that also is used as contacts for the power to it. I got the inspiration for the proj ...
Read more

›
This post provides the LCD[1] interfacing code using PIC12F675 microcontroller. This code is written in C language using MPLAB with HI-TECH C compiler. You can download this code from the 'Downloads' section at the bottom of this page. It is assumed that you know how to make an LED blink with PIC12F675 microcontroller. If you don't then please read this page first, before proceeding with this article. PIC12 ...
Read more

›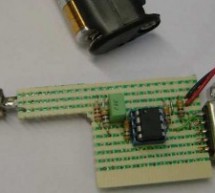 This project is based on ideas from Rickard's electronic projects page and David B. Thomas VCR Pong. However, I have developed the simplicity even further, eliminating most of the external components. Using microcontrollers with internal 4MHz clock generator there is no need for the xtal. The 12f675 part also operates on wide voltage range, and the regulator can be removed. For game controller, I plan on us ...
Read more

›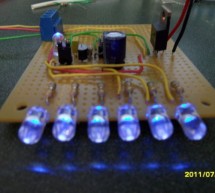 PIC Stroboscope You have probably been to a party where there is a strobe and it delays everything. Today we are going to use this principle to "slow" stuff (fans) down. Maybe you have seen one using 555 timers, the Arduino and maybe even the Propeller chip. However, have you ever seen one with a PIC? We are going to build this today. I am using the PIC12f675 from Microchip. THer is a video below to show th ...
Read more

›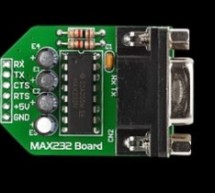 This post provides the software UART (Bit Banging) code for PIC12F675 microcontroller (e-g to connect PIC controller with PC using serial adapter). As we know, PIC12F675 microcontroller doesn't have built in UART module, so we can create UART functionality in it's software. This post provides the details of how to program software UART functionality in PIC12F675. This code is written in C language using MPL ...
Read more

›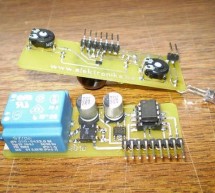 Those days when I come home at night and strait into the darkness are finally over. This is a very practical device and I built it so that it is a module to my Dual Channel IR Remote Control. Because of that I ended up with a definite overkill of what is supposed to be a simple switch with a timer when I open/close my door. Anyway, it is modular+wireless and that's what I like. You can download the project ...
Read more

›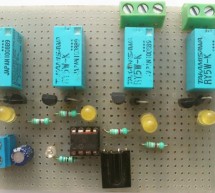 Introduction  This little project will demonstrate how you can use your old NEC IR protocol based TV,DVD or VCR remote control to control you home appliances like fan bulb or virtually anything. Consumer IR protocols There are a number of consumer Infrared protocols out there and they have been used for every single purpose possible i guess, like PDA laptops and other consumer appliances. RC-5 & RC-6 by ...
Read more

›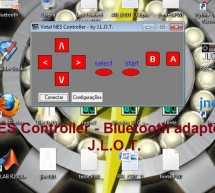 How to adapt a NES clone controller to bluetooth I bought a Wireless Bluetooth RS232 TTL Transceiver Module from DX (SKU 80711) and wonder what i can do with it. So, I'm realy nostalgic and decided to build a NES clone crontoller to bluetooth adapter, because, by this way I could play again that amazing games that we all remenber. A important thing I need to highlight is that in my city is so dificult to fi ...
Read more

›
The synchronizer ensures a contact-free, optical synchronization of external photographic flashguns. The triggering of the external flash is derived from embedded flashes of a camera. It can be used for both digital and "analogous" cameras or for a remote synchronization of the actual flash units. Its use is optimal especially with digital cameras (DC), where extraordinary adaptability for different systems ...
Read more

›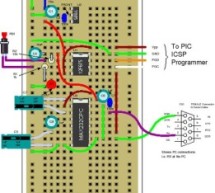 The 12F675 does not have a built in USART that you can use for a PIC serial port so you have to use a software USART which you can download from this page. Adding a pic serial port connection to the circuit gives you scope for much more interesting projects as you can collect data from the ADC (inputs) or comparator or external infrared receiver module etc. and transmit it to a PC. This tutorial covers crea ...
Read more

›