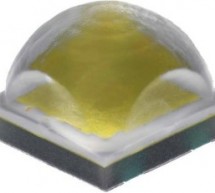 Cree has added 50% more light output to its 3.5×3.5mm 'XP' format with the introduction of the four-junction XPH35 series. Something like 1,800 lm is available with the device turned up to its absolute maximum of 1.05A, when it typically drops something over 12.3V (~140 lm/W). At the specified current of 350mA (Vf ~11.3V) output of the highest cool white bins in the data sheet is around 700lm – 177 lm/W. Th ...
Read more

›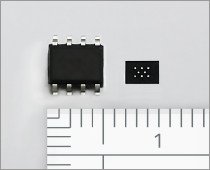 Fujitsu is sampling a 1Mbit SPI FRAM in an 8-pin WL-CSP device measuring 3.09×2.28×0.33mm which reduces the surface mounting area by 77%, and the device height by 80% compared to an S0P-8 package. The WL-CSP package makes FRAM suitable for wearable and sensor applications which need small device dimensions, extremely low power consumption for maximum battery lifetime, and high endurance in write cycles in c ...
Read more

›
Aiming at lighting manufacturers that don't want to buy a soldering line, Sheffield-based Litecool has developed a self-adhesive self-connecting LED package that can be pick-and-placed direct onto heatsinks – and it accepts standard lenses from Carclo. No PCB, metal-cored or otherwise, is required. The key to self-adhesive packaging for power devices is to spread heat to an area much large than the die befo ...
Read more

›
It's been a while since I posted a new article, a delay at least partly due to me herniating a disc in my neck which left me completely unable to look downwards for any length of time and as you'll know all too well you can't work on circuit boards without peering down at them. Look after your neck and back folks, and I mean that seriously. Well I'm back now and I've got a lot of ideas for articles s ...
Read more

›