The Internet-of-Things Power Meter (IPM) is a device fixed on top of the regular household power meter that provides detailed information about the electricity usage. Modern power meters have a LED blinking every time a Watt is used, the IPM detects these flashes using a light sensor, counts them, saves the values to an SD card. Later the data is stored to the cloud. Usually power companies provide very rou ...
Read more

›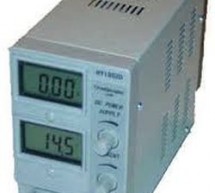 This post would provide a working example of how to make a simple Current Meter (DCM) using 16bit PIC microcontroller and a series shunt resistance. We have very precise ammeter current measurement with a 10bit ADC and with a tolerance of ±10mA. You may download code and Proteus Simulation from the download section at the bottom of this post. I am using MPLAB X IDE, C30 Compiler and Proteus Simulation on v8 ...
Read more

›
In this article, I will discuss how to design digital ac watt meter using pic microcontroller. Lets start with basic introduction of watt meter. What is Watt meter? Watt meter is electrical device which is used to measure real power in AC circuits and total power in DC circuits. You may have used watt meter in electrical labs. Watt meter most frequently used in electrical labs for performing various lab tas ...
Read more

›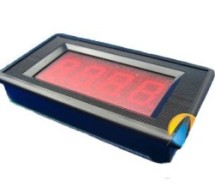 This PIC LCD volt meter project uses a PIC micro and an HD44870 LCD display. The analogue input is taken directly to the analogue input pin of the microcontroller without any other processing. So the input range is from 0V to 5V - the maximum source impedance is 2k5 (for testing use a 1k pot). To improve the circuit add an opamp in front to present greater impedance to the circuit under test. The output imp ...
Read more

›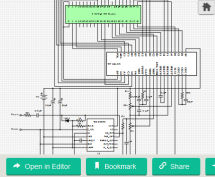 The circuit is a simple digital frequency meter that is made of a frequency-to-voltage converter and an analog-to-digital display converter that can be operated from a single 9-volt battery. The TC7126 ADC generates the voltage required by the TC9400 FVC with internal regulators. The TC7126 is designed to directly drive a 3-1/2 digit, non-multiplexed LCD display so no digital conversion is required. The inp ...
Read more

›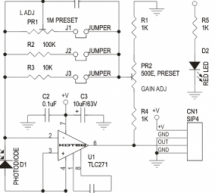 LUX Meter project has been design to measure the illumination.  Illumination is luminous flux falling on surface area of photo diode.  This illumination converted to corresponding voltage using Op-Amp circuit. Specifications Supply 9 VDC PP3 Battery @ 20 mA  Onboard Photo Diode  Onboard preset for calibration  Range selection via jumper 10mV/LUX, 1mV/LUX, 0.1mV/LUX  Interfacing is via berg connector  Power- ...
Read more

›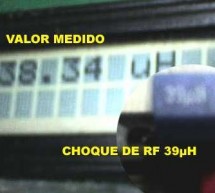 The good and high precision capacitor meter (Capacimeter) inductor meter (inductimeter) auto range lc meter for pic 16f84 or pic 16f628 and display lcd by phill rice Construction of an apparel that allows measure inductors (Inductimeter) and capacitors (Capacimeter), knower like LC meter, using PIC (16f84 or 16f628) and display marries in LCD. Translated of the excellent project inductor and capacitor meter ...
Read more

›
Summary. A design for a simple microwattmeter. Input range -75 dBm to + 5 dBm. Frequency range 2 to 50 MHz. Level resolution is 0.1 dBm, frequency resolution is 10 kHz. Log-output about 0.5 - 3.5 Volt. Output for external counter. The meter uses a AD606 as log-converter, a MAX186 as ADC, a PIC16C84 as controller and a HD44780 type LCD. The PIC measures frequency and level of the input signal and calculates ...
Read more

›
One of the most commonly used medical instruments nowadays is the thermometer. The thermometer is used to monitor or measure the body temperature of a sick person. The idea of creating a thermometer started from a device called thermoscope, a thermometer without a scale. Several inventors developed it until Sir Thomas Allbutt invented the first practical 6-inch medical thermometer able to sense a body tempe ...
Read more

›
High resolution capacitance meter measures in 0.01pF digits. Total range 0pF to 50uF. - 27th Jun 2011, Updated 25th may 2013. Another PIC based capacitance meter? Although there are a few PIC based "pico" capacitance meters on the internet this design has some advantages over the other designs I have seen; 1. It has very high resolution; from 6 to 7 digits! (Others have 3 or 4 digits) 2. It has a wide range ...
Read more

›