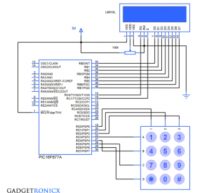 Interfacing LCD and Keypad are one of the important interfacing concepts of PIC microcontroller since both the input and output element can form a complete embedded system design. This tutorial is about teaching you how to get input input values from keypad by polling method and display the input into a 16×2 LCD. 16×2 LCD: This type of LCD is widely used to display the status of the system and to display th ...
Read more

›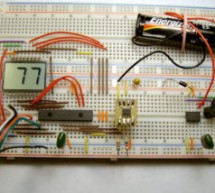 This project is one another thermometer application that uses the TCN75A digital sensor from Microchip. The sensor provides digital temp conversion in the range -40°C - 125°C (-40°F - 257°F) and has maximum resolution 0.0625°C. However, the LCD that I used (2.5 digits model LCD-S2X1C50TR manufactured by Lumex) only works reliably in the temperature range 0 - 50°C, so the code is adjusted for this range only ...
Read more

›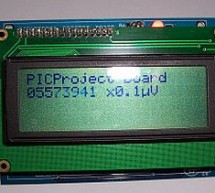 The new PIC18F2550 Project Board was designed as the development platform for student projects. The board features MCU: PIC18F2550 with external xtal, ADC: one channel 0-2.5V sigma-delta converter, Linear Technology LTC2400/LTC2420, 6-channal 10-bit ADC 0-5V, Display: Two connectors for text LCD or GLCD, USB: onchip USB port with type B connector, Power supply: onboard low dropout regulator, rechargeable ba ...
Read more

›
This post provides the LCD[1] interfacing code using PIC12F675 microcontroller. This code is written in C language using MPLAB with HI-TECH C compiler. You can download this code from the 'Downloads' section at the bottom of this page. It is assumed that you know how to make an LED blink with PIC12F675 microcontroller. If you don't then please read this page first, before proceeding with this article. PIC12 ...
Read more

›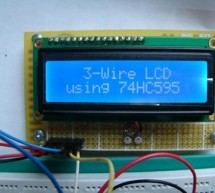 Introduction HD44780 based character LCDs require at least 6 I/O lines from microcontroller to display data. Therefore, they are not suitable for low-pin microcontrollers like PIC12F series microchips. In this project, I am going to show how to drive an HD44780 based LCD display with only 3 pins of a microcontroller. I am going to demonstrate it with PIC12F683 microchip. The character data and command from ...
Read more

›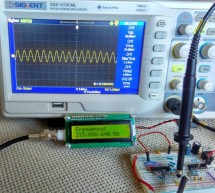 This project shows how to build a very simple yet very useful tool that every DIY enthusiast should have in his lab: a 100MHz+ frequency counter. The schematic is fairly simple and straightforward and uses a PIC16F628A microcontroller for measuring frequency and a high speed comparator for signal amplification and conditioning. The microcontroller uses its internal 4MHz oscillator for the CPU clock. Timer1 ...
Read more

›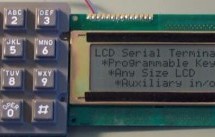 LCD Serial Terminal Introduction: In the 1980s a serial terminal was a big thing with a picture tube and keyboard. You used it to communicate with a computer by RS-232 cable or with a modem. In this century, we still sometimes have need for a serial terminal, and we'll typically use a personal computer running a terminal program (Hyperterminal, bundled withWindows, is a terminal program). This project is a ...
Read more

›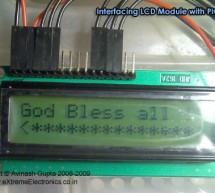 A large number of embedded project require some type of user interface. This includes displaying numerical, textual and graphical data to user. For very simple numerical display we can use 7 segment displays. If the requirement is little more than that, like displaying some alphanumeric text, we can use LCD Modules. They are cheap enough to be used in low cost projects. They come in various sizes for differ ...
Read more

›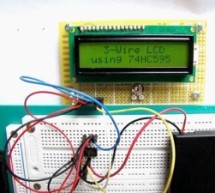 HD44780 based LCD displays are very popular for embedded projects because they are cheap, easy to interface, can display characters, consume power lot less than seven-segment displays, and most of the present day compilers have in-built library routines for them. However, the only disadvantage is that they require at least 6 I/O pins of microcontroller. Well, you may ask, isn't that less than what seven-seg ...
Read more

›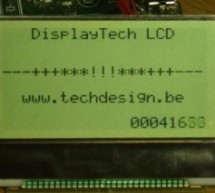 Here are the technical specifications: LCD resolution: 128 x 64 pixels LCD manufacturer: DisplayTech. LCD model 1: 64128COG-FA-BC (no backlight) LCD model 2: 64128G-FC-BW-3 (white LED backlight) On-glass lcd controller KS0713, with 30 pins connector. Very low power operation (less than 1mA @3V) Fast serial interface (only 8 wires needed) Molex miniature connector. LCD: dimensions: 56 x 41 mm PCB interface: ...
Read more

›