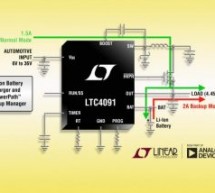 LTC4091 is a complete lithium-ion battery backup management system for 3.45V to 4.45V supply rails that must be kept active during a long duration main power failure. The LTC4091 employs a 36V monolithic buck converter with adaptive output control to provide power to a system load and enable high efficiency battery charging from the buck output. When external power is available, the device can provide up to ...
Read more

›
It has long been predicted that inter-chip and even intra-chip data links must ultimately move from the electrical to the optical domain. Prior work in the field has typically involved lasing light sources being fabricated separately from, and tightly coupled to, a host IC. A group of researchers from the UK has demonstrated the first practical laser that has been grown directly on a silicon substrate. The ...
Read more

›
The IDTF1370 is a digital pre-distortion demodulator (DPD) for power amplifiers linearization in BTS transmitter that utilize the IDT zero-distortion, and glitch-free technology that offers customers an unparalleled high-performance DPD demodulator. It utilizes the technique called pre-distortion, in digital communication it is used to improve the linearity of the transmitter performance by pre-distorting a ...
Read more

›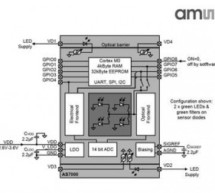 The AS7000 solution contains the AS7000 module including the LEDs, photo-sensor, analog front end (AFE) and controller as well as application software required to implement an accurate optical HRM/HRV fitness band product. The module also enables skin temperature and skin resistivity measurements by providing interfaces to external sensors. The AS7000's low-power design is particularly well suited to applic ...
Read more

›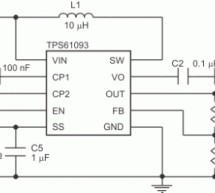 Description The TPS61093-Q1 is a 1.2-MHz, fixed-frequency boost converter designed for high integration and high reliability. The IC integrates a 20-V power switch, input/output isolation switch, and power diode. When the output current exceeds the overload limit, the isolation switch of the IC opens up to disconnect the output from the input. This disconnection protects the IC and the input supply. The iso ...
Read more

›
We recently had a customer present this faulty Alchemist Forseti integrated amp for repair – I'd guess this dates from the 1990's and has been well looked after. It's a bit of a bruiser as you can see from the extensive heatsinking! Unfortunately it developed a DC fault on the loudspeaker outputs and destroyed the customers speakers, so it's now in the naughty corner awaiting surgery. Access to the internal ...
Read more

›