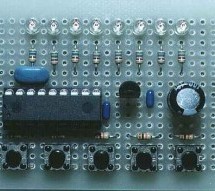 This is my first simple PIC program. It will flash an LED continuously at approximately 1Hz. It is a very simple loop that delays for 500 milliseconds (half a second) with the LED on, and then delays for 500ms with the LED off. Thus, the LED flashes at 1 Hz! The schematic for this circuit shows that the wiring is simple: connect a crystal oscillator across pins 15 and 16 and add the capacitors to ground. Wi ...
Read more

›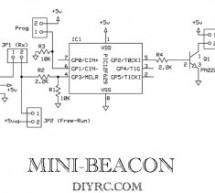 This project, called "Mini-Beacon", is a miniature programmable LED Flasher that is based around the PIC microcontroller.  This project grew out of an idea and recommendation posted on RunRyder.com.  The Mini-Beacon basically simulates the light emitted from a rotating light beacon such as those used in older police cars and fire engines.  As seen from the observer's perspective, as a real rotating beacon r ...
Read more

›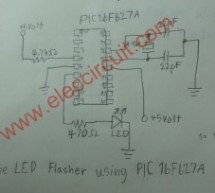 This is microcontroller led flasher circuit using PIC16F627A as first PIC microcontroller learning of mine son. it is basic for really beginner. Important issue,we have to make The PIC micro controller is easier. Children 8 years old, he does not understand the computer language at all. My friends say that children should not play computer. He should try to build a lot of real electronic projects. I avoid t ...
Read more

›