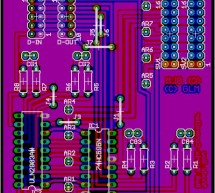 In my previous post, I write about an LED matrix for a marquee. The display itself is a two-board solution, the second board or 'daughterboard' piggy-backs on some pin headers from the display board. This second PCB provides the control interface and logic for handling these 64 leds, and passing along control data to any upstream displays. The controller uses a 595 shift register to provide the ON/OFF contr ...
Read more

›
We all are well aware of the major fire accidents that frequently take place in nuclear power plants, petroleum refineries, gas tanks, chemical factories and other large scale industrial units and result in very serious consequences. Thousands of people have lost their lives due to such hazardous accidents. Therefore, the main objective of this project is to develop a robotic vehicle capable of fighting the ...
Read more

›
Robots can be used in many applications in industries, military, domestic. One of the major uses of Robots is an asset to human beings. Whether it is any kind of hazardous situations like a fire breaking out or a place full of landmines, Robots can easily work out a way out of these problems. So let us see these two types of Robots – A Land mine sensing Robot and a Fire Fighting Robot Land Mine Sensing Robo ...
Read more

›