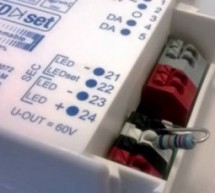 The Module-Driver Interface Special Interest Group (MD-SIG) has released its specification for a universal electrical interface between LED lighting modules and their power supplies. The standard has the support of Osram, Panasonic, Philips and Tridonic. Called LEDset1 edition1.0, it is a three wire interface (see diagram): power, 'Iset' and a return for both. The specification also allows for separate retu ...
Read more

›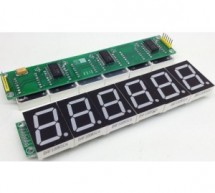 6 Digit serial display project has been designed around CAT4016 IC from ON semi.  The CAT4016 is a 16 channel constant current driver for LED billboard and other general display applications. LED channel currents are programmed together via an external RSET resistor. Low output voltage operation on the LED channels as low as 0.4 V (for 2 to 100 mA LED current) allows for more power efficient designs. A high ...
Read more

›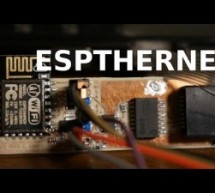 Overall Discussion This is a relatively unreliable and coincidentally functional ESP8266 Ethernet driver. It only uses two pins on the ESP, the I2S pins, but does provide Ethernet. It does all its own manchester encoding/decoding, framing, FCS, etc. It mimics the ENC424J600 stack found in avrcraft and borrows the IP, ARP, UDP and TCP stacks from that project, too. This product was created by Charles Lohr, b ...
Read more

›
This Half-bridge driver based on IR2104 gate driver IC and N channel Dpak  MOSFET  , The IR2104 is a  high voltage, high speed power MOSFET driver with independent high and low side referenced output channels. HVIC and latch immune CMOS technologies enable ruggedized monolithic construction. The logic input is compatible with standard COMOS or LSTTL output, down to 3.3V logic. A gate IR2104 driver is a powe ...
Read more

›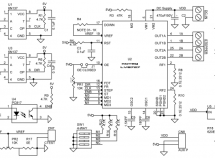 The Project is based on LV8727E IC from ON Semiconductor. The LV8727 is a PWM current-controlled micro step bipolar stepping motor driver. This driver can provide eight ways of micro step resolution of 1/2, 1/8, 1/16, 1/32, 1/64, 1/128, 1/10, 1/20, and can drive simply by the step input. This Bipolar Driver works with supply input 9V to 36V (Replace L317 with L317HVT for supply input up to 45V DC). Load cur ...
Read more

›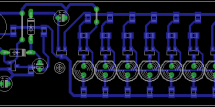 AN6877 is linear AF level meter IC produced by Panasonic and it is commonly found on many audio equipment. This chip is no longer manufactured by Panasonic and finding replacement chip for AN6877 is also quiet difficult. The circuit described in this article is design to replace AN6877 base LED drivers and it is based on commonly available components. This replacement LED driver is design using 10, MMBT3904 ...
Read more

›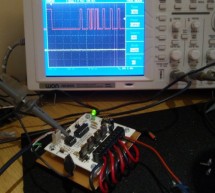 Description This project is a 4 channel DMX512 driver board.  It features four power MOSFETs that can be configured to operate in PWM mode or as on/off outputs.  The driver can be configured to use any four consecutive addresses across the full 512 channel address range.  It can be used to drive LED arrays or low voltage lamps in PWM mode or operate relays in static mode. Feature list: 4 channels with low ...
Read more

›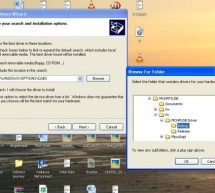 USB Interface Board Driver Installation Connecting PIC18F4550 First Time This tutorial will try to explain how to make your interface development board to work for the first time. Without a Demo hex code inside PIC18F4550's flash memory, it  won't respond even if we connect the Demo Interface Board Directly to computer. In my previous post we have successfully loaded the Demo Hex Code into the PIC18F4550  u ...
Read more

›
Description As featured in Electronics Weekly Gadget Freak (20/02/2008) The main reason I made this version is that I wanted to fit it in to the base of an Ikea Mylonit lamp. This lamp is made entirely from glass and has a small recess in the base with an entry for the power lead.  Since it had nowhere to fit a separate power connector but did have a slot for a power lead to pass in to the base, I needed to ...
Read more

›
Versatile project has been designed to use in automotive application and industrial servo control application. This project provides all active necessary functions for closed loop servo system using Brushed DC Motor and potentiometer mounted on output shaft of DC Motor Gear. This project is ideally suited for almost any servo positioning application. Features POWER SUPPLY: 12-30V DC MOTOR LOAD: 800mA MAX P2 ...
Read more

›