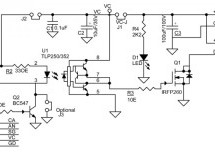 DC Output Solid State Relay 10Amps 60V DC (Optically Isolated Input) This project has been designed around TLP250/352 which is Opto-Coupler IGBT/MOSFET Gate Driver from Toshiba and Mosfet IRFP260 from IR, This relay consists of optically isolated gate driver and low impedance Mosfet. The combination of low resistance and high load current handling capabilities make this Relay suitable for a variety of switc ...
Read more

›
1.2V to 35V Adjustable DC-DC Converter project has been design around TI's  LM2576-ADJ IC. Inputs supply 40 VDC.  LM2576-ADJ is a monolithic integrated circuit that provides all the active functions for step down switching regulator, capable of driving 3A load with excellent line and load regulation.this board has minimum number of components. Features  Output 1.2 to 35 VDC @ 3 A regulated low ripple DC vol ...
Read more

›

H-Bridge has been designed around IR2104 IC from international Rectifier. The board has been made mainly for DC-Motor application. The driver can handle load up to 8-10Amps. I have tested this board with 36V DC supply . The circuit uses N Channel IR540 MOSFETS from international rectifier. IR540 requires large heat sink for 10Amps load. Board has shunt resistor to provide voltage proportional to current flo ...
Read more

›
Hello friends here is a proteus simulation of speed control of DC motor with the help of Pulse width modulation (PWM) control, PWM signals are generated by 8051 microcontroller. As we have discussed earlier that proteus is a really good simulation software for beginners and 8051 is the most basic among all microcontroller so this can be a very good project of motor control if you are doing it for first time ...
Read more

›
DC Motor and L293D We can't drive a DC Motor (depends) directly with a Microcontroller, as DC Motors requires high current and high voltage than a Microcontroller can handle. Microcontrollers usually operates at +5 or +3.3V supply and it I/O pin can provide only up to 25mA current. Commonly used DC Motors requires 12V supply and 300mA current, moreover interfacing DC Motors directly with Microcontrollers ma ...
Read more

›
Micro-controller is a very widely used electronic component and today we are showing your another example of it. Today's' project topic is "DC motor speed control using Microcontroller PIC16F877A" and we are sharing full project report of it. This is a very good project work for final year Electronics and Electrical students. This project is mainly focus on DC motor speed control system by using microcontro ...
Read more

›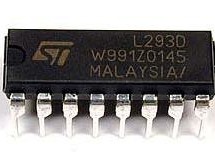 L293d is an H Bridge bidirectional motor driver IC used to interface DC motor and stepper motors to Microcontrollers. CircuitsGallery.com already discussed about the working principle of L293 IC with an example of bidirectional motor driver circuit.It is very easy to make a DC motor control using microcontroller. In this article I'm gonna show you the interfacing of DC motor with PIC16F877A microcontroller ...
Read more

›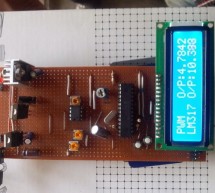 In our lab I saw many DC power supply which have a variable knob to regulate the output. I was dreaming to make such a project where I can regulate the voltage using push button.As I am not an industrial level expert so this project is just about a digital DC power supply of small range(5V-12V). You can press push buttons to increase or decrease output voltage.Here we use LM317 to regulate the output voltag ...
Read more

›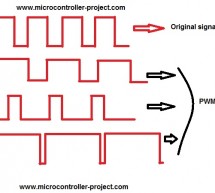 Here is a simple project on how to control fan or dc motor speed uisng pic 16f877 microcontroller. There are numerous ways to control the speed of motor(or fan). Varing current,voltage and resistance etc. But when it comes to controlling the speed using microcontrollers. Then the PWM(Pulse width modulation) technique is used. In Pulse width modulation the digital signal high and low time is chaged. Actually ...
Read more

›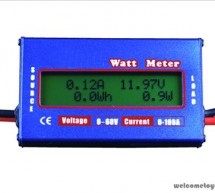 Digital dc watt meter using pic microcontroller is used to measure dc power of dc circuits. Voltage and current sensors are used in this project. Voltage and current sensors are interfaced with microcontroller. Voltage sensor is used to measure voltage across circuit or load. Current sensor is used to measure current passing through load. Voltage divider circuit is used to measure high voltage. because micr ...
Read more

›