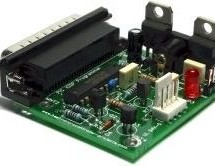 AN589 is microchip's application note for a parallel port pic programmer circuit which I chose as I wanted something reliable to get up and running quickly. Note: This page is left on site for legacy information that is applicable to older computers. These days PCs and laptops have only a USB interface so a parallel programming circuit is not useful. instead you should be using a PicKit3 (or maybe PicKit2) ...
Read more

›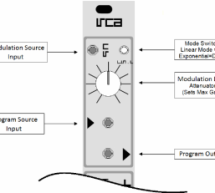 Product Description RFMD's RFSA3013 is a fully monolithic analog voltage controlled attenuator (VCA) featuring exceptional linearity over a minimum temperature compensated 30dB gain control range. It incorporates a revolutionary new circuit architecture to solve a long standing industry problem: high IP3, high attenuation range, low DC current, broad bandwidth and temperature compensated linear in dB contro ...
Read more

›
Capacitors    Capacitors are two-terminal components used for filtering, energy storage, voltage spike suppression, and many other applications. In their simplest form, they consist of two parallel plates separated by an insulating material called a dielectric. Capacitors store electrical charge. The unit of capacitance is Farad (F), attributed to Michael Faraday who was a pioneer in using capacitors for pr ...
Read more

›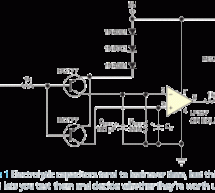 How to use this When the simulator starts up you will see an animated schematic of a simple LRC circuit. The green colour indicates positive voltage. The grey colour indicates ground. A red colour indicates negative voltage. The moving yellow dots indicate current. To turn a switch on or off, just click on it. If you move the mouse over any component of the circuit, you will see a short description of that ...
Read more

›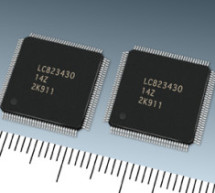 ON Semiconductor, driving innovation in energy efficiency, has introduced a new MP3 capable device to support both record and playback in portable MP3 audio applications where there is a strong requirement for miniaturization, reduced bill of materials (BoM) and reduced cost. The LC823430TA audio processing system provides a single-chip solution by integrating digital signal processing (DSP) circuitry for M ...
Read more

›
The Goals Sometimes you need to check one circuit and test some of its nodes. Usually a tester in voltage mode is a good solution, but it has a pair of problems. First, it measures about zero both when the node is driven at zero volts and when the node is floating (not driven at all). Second, it gives the information on the tester display, so you need to take the view from the circuit to the tester to check ...
Read more

›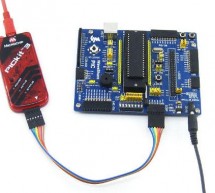 In Circuit Serial Programming is a method of directly programming a Microchip PIC or Atmel AVR while in they are connected to a circuit, as opposed to programming the chip ahead, and only then soldering it to a circuit. There are many benefits to ICSP, but also some important design considerations which I will try to highlight. In circuit programming has many advantages: It shortens the development cycle – ...
Read more

›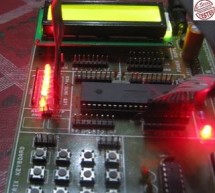 How to interface LED with Microchip's PIC microcontroller? How to connect LEDs to a PIC microcontroller? LED interfacing is the stepping stone for microcontroller development. This is a simple embedded program for PIC 16F877A to interface LEDs, suitable for beginners who wish to study basics of embedded microcontroller programming. The program is developed through Micro C compiler, one of the best solutions ...
Read more

›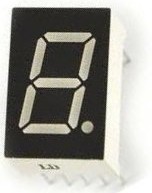 In this article, we will show how to drive a 7 segment LED Display using a PIC16F690 microcontroller. This PIC16F690 microcontroller chip is actually a part of the PIC2 Starter Kit, so we will actually be using this starter kit to drive the LED Display. A 7 Segment LED Display is an electronic device that contains 8 individual LEDs. Each of the LEDs can either be on or off. Depending on which LEDs are lit d ...
Read more

›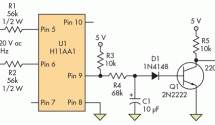 or applications such as motor control or power supplies, it's often necessary to know whether the ac line is at 120 V or 220 V to adjust the operation. The circuit illustrated in the figure monitors the ac line and provides a basic output indicating whether it is at 120 V or 220 V, with the output at the transistor collector going low for 120-V and high for 220-V inputs. Related Measure AC Power Line Proper ...
Read more

›