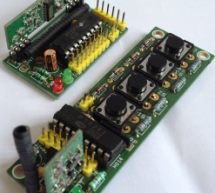 4 Channel RF remote built using PT2262 and PT2272-M4 IC from Princeton technology. PT2262 used as Encoder (Transmitter) and PT2272-M4 Decoder (Receiver) ICs are heart of the project. The receiver provides 4 channel Momentary outputs. All outputs are TTL level can be interface with other circuits or relay board. Transmitter works with 5V to 12V DC. Receiver works with 5V DC. When any of SW1-SW4 (S1-S4) tact ...
Read more

›
This PIC microcontroller based RC driver is able to control 4 RC Servo by on board independent 4 potentiometer , 4X3PIN header for RC servo interface, screw terminal for supply input, on board power LED, optional 4X3PIN header connector for external potentiometer. Features Microcontroller based design for greater flexibility and ease of control Individual servo controlled via onboard preset or external pote ...
Read more

›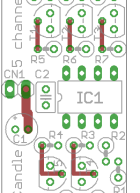 Download the full package (micro code and PCB data) The core of this project is a PIC12F508 which was strictly picked based on cost and availability. This firmware should be easy to port to just about any PIC micro. Code only uses 1 timer, no interrupts, 22 bytes ram, and 369 words of flash. The core of the firmware is 5 independent 16 bit linear feedback shift registers generating pseudo random bit streams ...
Read more

›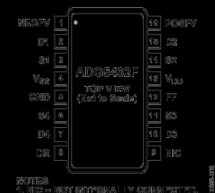 Analog Devices (ADI) has introduced a quad-channel protector and two multiplexers offering ±55V overvoltage protection (OVP) for precision converters, amplifiers and other components that operate from a voltage of 4.5V up to 36V. According to ADI the ADG5462F quad channel protector, ADG5248F 8:1 multiplexer and ADG5249F differential 4:1 multiplexer offer ±55V OVP in power-on and power-off stages and protect ...
Read more

›
Introduction: This describes my original design dual channel quantizer inspired by Chris List's ARP Style CV Quantizer design. My new implementation is an intelligent design that exploits the programmability of a Microchip PIC16F84. It will quantize voltages in 1/12 volt (semitone) or 1 volt (octave) steps from –10V to 10V. Quantization time is about 2ms per channel. Octave switches allow the user to select ...
Read more

›
Description This neat little circuit provides 8 LEDs directly driven from the PIC along with a single mode control switch.  The firmware elsewhere on this page drives the LEDs with a 5 bit PWM signal providing each of the 8 LED channels with four levels of intensity; off, dim, mid, bright.  A number of sequences are programmed into the firmware to provide some interesting visual effects and chase sequences, ...
Read more

›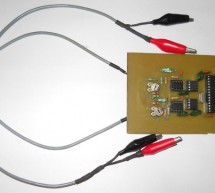 Inroduction More and more experiments are now 'PC-assisted.' Also conventional acquisition systems are very expensive. Since portable  PCs are today common and a USB link is a better solutionhere we present an oscilloscope using USB port of the PC that operates at up to 10 kHz with ±16V input voltage. It has much more improved features than the PC-based oscilloscope . The oscilloscope uses IC PIC18F2550 fro ...
Read more

›
 Description This project is a 4 channel DMX512 driver board.  It features four power MOSFETs that can be configured to operate in PWM mode or as on/off outputs.  The driver can be configured to use any four consecutive addresses across the full 512 channel address range.  It can be used to drive LED arrays or low voltage lamps in PWM mode or operate relays in static mode. Feature list: 4 channels with low ...
Read more

›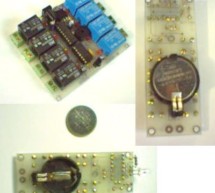 This IR remote control that you can use to control other devices or circuits up to 8 devices. The control codes are sent in RC5 format modulated to about 38 kHz carrier frequency.The IR transmitter powered by the CR2016 which is a 3V button Cells Battery CR2016.To extend the life of the battery this is done by putting the CPU into SLEEP mode for most of the time and wake-up only when a key is pressed. PIC16 ...
Read more

›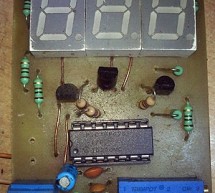 This electronic circuit project is a simple four channel digital voltmeter with display and keyboard . This four channel digital voltmeter is based on PIC16C71 manufactured by Microchip Technology . The PIC16C71 device's I/O ports have an improved sink/source specification. Each I/O pin can sink up to 25 mA and source 20 mA. In addition, total PORTB source current is 100 mA and sink current is 150 mA. PORTA ...
Read more

›