quite an advanced picmicro trial, testing, project development cycle a lot of functions all resources shared also the circuit for testing c language prepared test program at (pıc_board_test.c) had the most excellent on the...Electronics Projects, Multi-functional PICmicro Development Board (Breadboard Supported) "avr development board, pic development board, " quite an advanced picmicro trial, testing, proj ...
Read more

›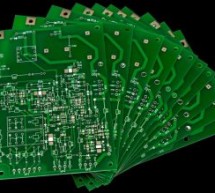 The dream of every maker and innovator out there is to make a product that will be usable by potential users. For hardware-based products and devices, the first step in achieving this is to develop a prototype and then move from there. The prototype will involve making a circuit diagram on a breadboard and then commence to make a PCB (Printed Circuit Board) for the circuit under construction. After checking ...
Read more

›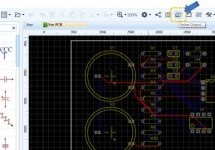 Recently, I had the opportunity to test the printed circuit boards (PCB) offered by JLCPCB. These tests were made in two different boards of the brand and here I'll report my impressions about them. Due to the spread of the maker culture and the do-it-yourself (DIY) and easy access to components and a huge amount of technical information available on Internet, it has become much simpler to develop a solutio ...
Read more

›
A breadboard can be also made at home, from one side, it will be more expensive than those on the markets, but for another side, it's possible to add commonly used elements, like LEDs, switches, or other things, for example I added a precision IC socket that makes putting in and out of ICs much easier. Choosing what to put there is a bit like a making homemade pizza, one can put anything he likes (and what ...
Read more

›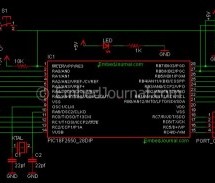 I wanted to make a breadboard breakout for PIC microcontrollers after seeing this arduino breadboard breakout from adafruit. This product is fully standalone and yet has very small footprint so that it can be conveniently plugged into the breadboard. The most amazing part was that it still had 2 rows on each side of the breadboard for the user to jump wires. First I thought of making a breakout board for th ...
Read more

›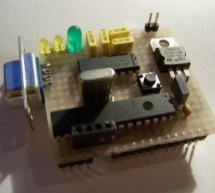 Bernard introduces us to the dsPIC microcontroller. He shows us his Arduino like project board for a dsPIC and gives advice on software development tools. This article was submitted by Bernard Klinc as part of the "Hobby parts for articles" program. Bernard received a graphic LCD module for this great article. You may remember Bernard from his previous Accelerometer Based Mouse article and video. This thing ...
Read more

›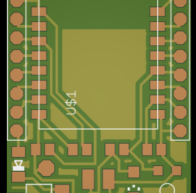 This is an old design of the breadboard adapter. Please look at this blog post for the recent design. I designed a single-sided ESP-12/ ESP-07 breadboard adapter PCB which will be easy to etch and solder for anyone who loves to play with the ESP8266 on a breadboard like me. Eagle files are in my github repo Features are: * Fits ESP-12 and ESP-07 module * Single-sided self-etchable design * Few, cheap parts ...
Read more

›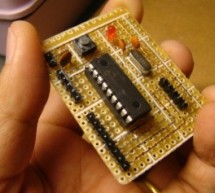 Here's another breadboard module that carries a PIC16F628A microcontroller. The power supply pins and the I/O ports of the PIC16F628A microcontroller are accessed through male headers. It can be easily plugged into a breadboard and is very useful for quick prototyping. It frees up a lot of space on the breadboard since the oscillator, reset, and ICSP circuits are already built on the module. It is different ...
Read more

›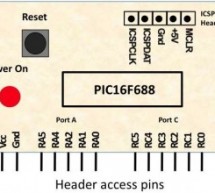 This module is based upon the basic setup circuit for PIC16F688 that I have described in one of my PIC lessons, Getting ready for the first lab. I thought of soldering this circuit on a general purpose ptototyping board and use male headers to access the power supply pins and I/O ports of the PIC16F688 microcontroller. This will free up a lot of space on the breadboard as the ICSP header and the reset switc ...
Read more

›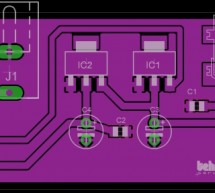 The Breadboard Power Supply includes AMS1117 – 5V voltage regulator and AMS1117–3.3V voltage Regulator, providing fixed supply voltages. It features three voltage input options: a screw terminal connector, DC adapter connector and USB connector. It can operate on 6-12V DC power supply and has separate screw terminals for 3.3V and 5V outputs. The AMS1117 series of adjustable and fixed voltage regulators are ...
Read more

›