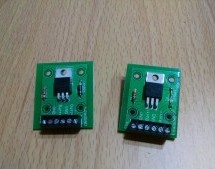 This is version 2.0 of the previously successful kickstarter project I launched last year.  I have a ton of these PCB boards left over and it got me thinking.  Why not find a P channel MOSFET with the same pinout and use it to control the direction of the motor also. I looked around and found the IRF5210.  I ordered up a batch and tested them out.  All thats left to do now is order a large quantity for the ...
Read more

›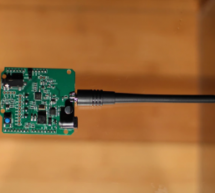 HamShield lets your Arduino talk to far away people and things using powerful amateur radio bands! Best of all, the hardware and software is open source! With the power of Arduino, you can use the HamShield to build and invent amazing things in minutes! For more detail: HamShield for Arduino (VHF/UHF transceiver) ...
Read more

›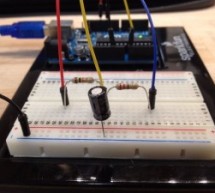 This tutorial provides a guide on how to set up an Arduino to measure the capacitance of a capacitor. This can be useful if the capacitor is unlabeled or if it is self-built. Capacitance is an object's ability to store an electric charge. Reasonably, this object is referred to as a capacitor. A capacitor that stores this charge in an electric field between two conductive plates is known as a parallel plate ...
Read more

›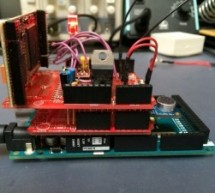 MOVI stands for My Own Voice Interface! It is the first standalone speech recognizer and voice synthesizer for Arduino with full English sentence capability: Up to 200 customizable English sentences. Speaker independent Standalone, cloudless and private Very easy to program MOVI provides an alternative to buttons, remote controls, or cell phones by letting you use full-sentence voice commands for tasks such ...
Read more

›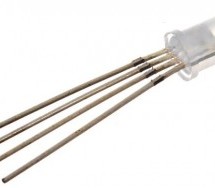 An RGB LED has 4 pins, one for each color (Red, Green, Blue) and a common cathode. It has tree different color-emitting diodes that can be combined to create all sorts of color! Any color is possible depending on how bright each diode is. In this tutorial you will learn how to use an RGB LED with Arduino and create unique color combinations. So, let's get started! Step 1: What you will need For this tutoria ...
Read more

›
The Wino board is an Arduino-like stackable development system which is both smaller and cheaper than Arduino units and features built-in WiFi as standard. The main Wino controller board measures 26.5 x 18.5 mm and fitted with an Atmel ATSAMD21 running at 48 MHz with 128 kB Flash storage and 16 kB RAM. The board uses the ESP8266EX WiFi module which supports all the 802.11 b/g/n standards offering P2P and so ...
Read more

›
About a year ago I started on a project to make a temperature controlled nightlight. I was inspired by seeing these lovely LED lamps styled as mushrooms growing out of pieces of wood. Those mushrooms were made out of glass, which was somewhat beyond my skills. However I then saw some had used translucent sculpey to make mushroom nightlights on instructables. So with that discovery it seemed like it would be ...
Read more

›
Hello, everyone !!! Today I'm going to show you how to make a thermometer with Arduino and LM35 termperature sensor, builded on a breadboard and conected together with jumpers (bunch of cables :D). Step 1: Gathering The Parts This is the list the parts needed to make the thermometer. If you dont have a 10k pot you can use 50k like me ! 1x Arduino UNO board 1x Breadboard 1x 16x2 LCD display 1x LM35 sensor 1x ...
Read more

›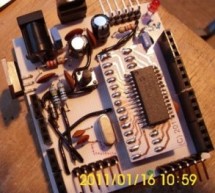 We've all done it – looked sideways with not a little envy at a range of add-ons for a power tool, and wished that they were available for the one we bought. There is no 'standard' footprint for a PIC Micro-controller development/experimental board. Vendors have chosen to provide their own 'take' in each case, and who can blame them, selling 'add-ons' for a proprietary board increases revenue streams. Given ...
Read more

›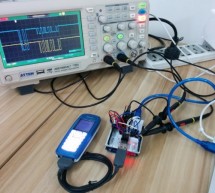 Anyone awake in the early 2000's knows the familiar shape of those candy bar style mobile phones. In the Shenzhen phone markets we see tons of them. Literally, there are tons of these phone passing through the markets every day. Some are resold while others are disassembled for parts and recycled. This is where all those cheap Nokia 3310/5110 LCD shields come from. It's great to see so much reuse and recycl ...
Read more

›