The AD8436 is a new generation, translinear precision, low power, true rms-to-dc converter loaded with options. It computes a precise dc equivalent of the rms value of ac wave-forms, including complex patterns such as those generated by switch mode power supplies and triacs. Its accuracy spans a wide range of input levels (see Figure 2) and temperatures. The ensured accuracy of ≤±0.5% and ≤10 μV output offset result from the latest Analog Devices, Inc., technology. The crest factor error is <0.5% for CF values between 1 and 10.
The AD8436 delivers true rms results at less cost than misleading peak, averaging, or digital solutions. There is no programming expense or processor overhead to consider, and the 4 mm × 4 mm package easily fits into tight applications. On-board buffer amplifiers enable the widest range of options for any rms-to-dc converter available, regardless of cost. For minimal applications, only a single external averaging capacitor is required. The built-in high impedance FET buffer provides an interface for external attenuators, frequency compensation, or driving low impedance loads. A matched pair of internal resistors enables an easily configurable gain-of-two or more, extending the usable input range even lower. The low power, precision input buffer makes the AD8436 attractive for use in portable multi-meters and other battery-powered applications.
FEATURES and BENEFITS
Delivers true rms or average rectified value of ac waveform
-Fast settling at all input levels
-Accuracy: ±10 μV ± 0.25% of reading (B grade)
Wide dynamic input range
100 μV rms to 3 V rms (8.5 V p-p)
full-scale input range
Larger inputs with external scaling
Wide bandwidth:
1 MHz for −3 dB (300 mV)
65 kHz for additional 1% error
Zero converter dc output offset
No residual switching products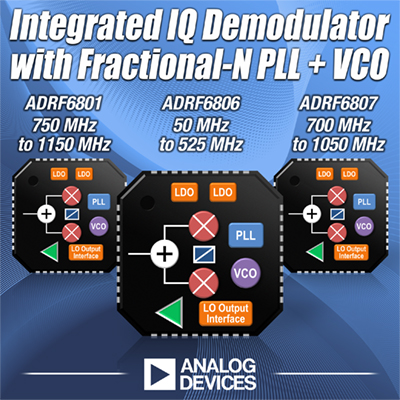 Analog Devices has unveiled today an integrated true RMS-to-dc converter that offers 100µV to 3V (8.5Vp-p) of usable dynamic range.
"The AD8436 features ac conversion accuracy to better than +/-0.5% and enables engineers to design systems with 90dB of dynamic range," claimed ADI. "Uniform settling for widely variant input values enables consistent conversion rates with results displayed promptly for near-zero and high-level ac inputs."
It includes and input buffer and crest-factors up to 10 are acceptable "with minimal loss of accuracy", said the firm. "It is particularly useful for high transit signals and can be used in designs currently using our AD736 and AD737 with improved performance."
The device is laser trimmed and characterised at 300mVRMS input and it is available in both -40 to 125 and 0 to 70°C versions.
Power supply is +/-2.4 to +/-18V dual or 4.8 to 36V single, with consumption typically 300µA at +/-2.4V.
Accuracy is +/-10?V or +/-0.5%max, and input frequency range is up to 65kHz for a additional 1% error, and up to 1MHz at -3dB (300mV).
For more read: RMS to DC converter covers wide range