RFMD IQ modulator has fractional-N synthesiser
Product Description
The RFMD2080 is a low power, highly integrated, IQ modulator with integrated fractional-N synthesizer and voltage controlled oscillator (VCO). The RFMD2080 can generate output frequencies of between 45MHz and 2700MHz, making it suitable for a wide range of applications.
The fractional-N synthesizer takes advantage of an advanced sigma-delta architecture that delivers ultra-fine step sizes and low spurious products. The synthesizer/VCO combined with an external loop filter allows the user to generate an oscillator signal covering 90MHz to 5400MHz. The signal is buffered and routed to a high accuracy quadrature divider (/2) that drives the balanced I and Q mixers. The output of the mixers are summed and applied to a differential RF output stage. The device also features a differential input for an external VCO or LO source.
The baseband I and Q stages are highly integrated; featuring variable gain and filtering as well as generation of DC offset voltages. The programmable DC offsets enable improved carrier suppression. The baseband input 3dB bandwidth can be tuned from 1.5MHz to 10MHz, and the total gain control range is 38dB with 2dB resolution.
Features
RF Output Frequency Range 45MHz to 2700MHz
Fractional-N Synthesizer with Very Low Spurious Levels
Typical Step Size 1.5Hz
Fully Integrated Wideband VCOs and LO Buffers
Integrated Phase Noise <0.2° rms at 1GHz
Integrated Baseband Amplification Stage with Variable Gain and Filtering
Tunable Baseband Filters Input 3dB Bandwidth from 1.5MHz to 10MHz
-45dBc Unadjusted Carrier Suppression
-40dBc Unadjusted Sideband Suppression
Very Low Noise Floor -150dBm/Hz Typical
Output P1dB +4dBm
Output IP3 +18dBm
3.0V to 3.3V Power Supply
155mA Typical Current Consumption
Serial Programming Interface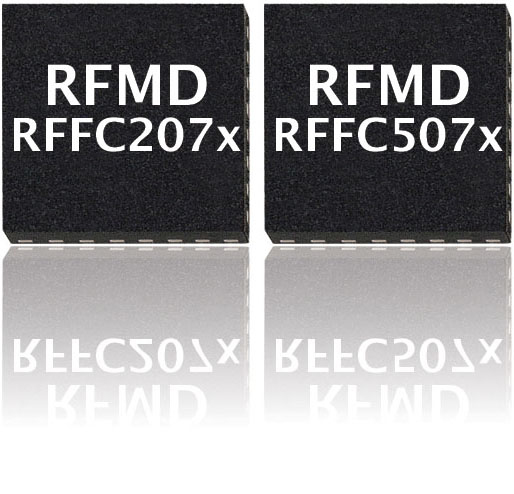 RF Micro Devices has introduced two low power IQ modulators featuring integrated fractional-N synthesisers and voltage controlled oscillators (VCO).
The RFMD2080 and RFMD2081 devices are capable of generating output frequencies from 45MHz to 2700MHz.
They are suitable for a wide range of applications, including satellite communications, point-to-point radio, software defined radio, and other wireless and wireline applications requiring QPSK/QAM modulators.
The RFMD2080 features a baseband interface incorporating programmable filtering and gain control.
Optimised for low power operation, the device has current consumption of 150mA from a 3V supply.
Both the RFMD2080 and RFMD2081 are programmable using a simple 3-wire serial interface and offered in QFN 5x5mm packages.
RFMD will exhibit the above components at the IEEE International Microwave Symposium (IMS) 2011, June 6-8, at the Baltimore Convention Center, in Booth 1402.
For more read: RFMD IQ modulator has fractional-N synthesiser
Current Project / Post can also be found using:
IQ Modulator with Synthesizer
IQ_Modulator IF qfn32 Synthesiser
Project Ratings:
Related posts