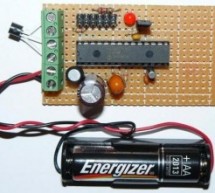 Design Goals DIY Friendly – Something that the Make audience could easily build Improve the reference design – Better measurement resolution, better timing, lower power, non-stop logging Minimal parts count – Lower cost and shorter build time Powered by a single 1.5 volt cell (AA, AAA, N or similar) and optional supplementary solar power Parts Selection One of the design goals is to use the fewest parts nee ...
Read more

›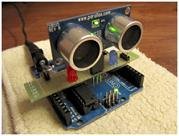 When we are choosing PIC microcontrollers for projects on electronics or electrical, there are many options for us. Ranging from eight bit to Thirty two bits, diverse micro-controllers are accessible to go well with projects and products of different complications and cost restraints. But if we talk about student projects, it may be either major projects or mini projects; there are only few microcontrollers ...
Read more

›
Green house intelligent control system is designed to protect the plants from more cool and hot weather and additional control system is included to save power by making fans and lights automatically turn on and off with the help of intelligent control system. In this project intelligent control system is developed using microcontroller and sensors. Green house system have a very important use now a days in ...
Read more

›
Temperature and relative humidity are two very important ambient parameters that are directly related to human comfort. Sometimes, you may be able to bear higher temperatures, if there is a lower relative humidity, such as in hot and dry desert-like environment. However, being in a humid place with not very high temperature may make you feel like melting. This is because if there is high relative humidity, ...
Read more

›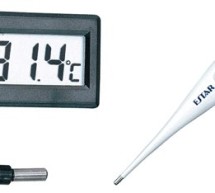 Temperature sensors are used in a wide range of electronic devices, including digital thermometers, home thermostats, ovens, and refrigerators. Figure 1 shows two devices with temperature sensors. Figure 1. Devices with temperature sensors. The temperature sensor provided in your kit is a precision analog sensor, whose voltage output is linearly proportional to the temperature. Configured as described here, ...
Read more

›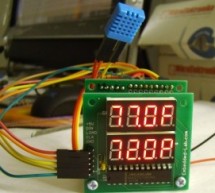 The objective of this project is to illustrate a technique of implementing adaptive brightness control to seven segment LED displays. It consists of a closed loop system that continuously assesses ambient light condition using an inexpensive light-dependent resistor (LDR) and uses that information to adjust the brightness of the display. For the proof of concept, the technique is applied to construct a digi ...
Read more

›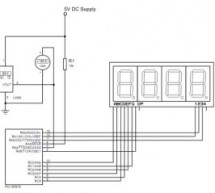 Hi friends, today we will see how to make temperature indicator using PIC microcontroller. The basic aim of this project is make you familiar with PIC microcontroller. It also explains how LM35 and 7 segment displays can be interfaced with PIC microcontroller. Components required: Following is a list of components required for temperature indicator using PIC microcontroller – mini project: PIC microcontroll ...
Read more

›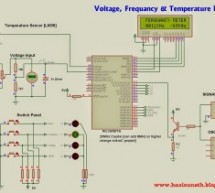 Features… Voltage, Temperature and Frequency can switching to each others using push buttons. Voltage Meter can measure DC voltage between 0v to 50v. Frequency Meter can measure frequency up to 65KHz. Temperature Meter can use between 00C to 1500C. Every functions can paused using push button. Instructions… Voltage meter –  Volt meter can measure dc voltages up to 50v. 5V is the maximum voltage can handle P ...
Read more

›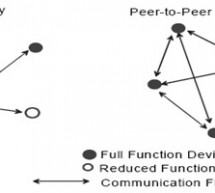 Project Summary An on-line monitoring system of temperature of conductors and fittings based on GSM SMS and Zigbee is produced in this project, by which the temperature of conductors and fittings can be monitored in real-time and some accidents caused by the increased temperature can be avoided. The principle and the feature of GSM SMS and Zigbee communication are analyzed. The construction of this system i ...
Read more

›
You might have come across several applications where we need to control a specific device based on analog parameter. This Embedded system works in a similar concept where we are about to control the speed of a DC motor using based on the external temperature. The rise in temperature will result in increase in speed of the motor and vice versa. These type of Temperature controlled fan systems can generally ...
Read more

›